February 23rd, 2010
I began recording my eighth studio LP (and sixteenth solo album overall), "Forever Young," Saturday night in Brooklyn. The ten-song LP is scheduled for a fall release.
Though the idea behind this new record gestated slowly, it ultimately came together pretty quickly. It starts, I guess, with Ethan.
My brother's first son, Ethan, was born seven years ago this June. I was eager to expose him to the joy of making music from the start. I bought him bongos, a piano and guitar all by his first birthday. Few things have made me happier in the intervening year's than witnessing sing-a-long rock shows break out (now featuring my older brother Christofer and Ethan's younger brother Edward) in their Upper West Side living room. Except maybe the looks on their faces when they see Uncle Benjamin rocking out downtown.
A few years ago, Rockwood Music Hall talent booker (and pal) Tommy Merrill offered me an otherwise unenviable Saturday afternoon slot. With an eye towards I decided to court the Dan Zanes market, and make it an "all-ages" show.
I've been performing these "Kid's Shows For Kid's Of All Ages" off and on for more than a year (in fact, here's a video my dad shot last year). They're not sets full of "Twinkle Twinkle Little Star" and "Itsy Bitsy Spider," but songs kids and parents can enjoy — timeless classics like "You Are My Sunshine" and "This Little Light Of Mine."
Of course, all of the above was done bearing in mind the eventuality of my own fatherhood. Fast forward to this fall, then, when Abbi told me she was pregnant and we began this long, exciting and terrifying journey together. My music career (if you want to call it that) wasn't paramount, but it was present in my thinking, planning and scheming. "What next?" I wondered. "How will I ever make records again?"
In fact, you may have inadvertently been one of my Facebook friends who helped me answer that question. Earlier this year, I asked "What's your favorite sing-a-long song?" The response was significant. I got hundreds of answers from friends all over the planet, everything from "Itsy Bitsy Spider" (drat) to "Morning Has Broken." I let those songs percolate in my head, and went about my work…
Ideas are funny. They stew in their own juices, expanding or contracting depending on the viability of their own ingredients. Sometimes they wither, other times they shift, morph and evolve into something else. At some point in the last ten weeks, this one shifted. Like life itself (apparently), it struck me like a bolt of lightning. Two, actually.
The first was to tear a page from the Santana playbook. You'll recall that, in 1999, the aging-but-venerated guitarist tapped young performers (Dave Matthews, Rob Thomas, etc) to add vitality to his new record, "Supernatural." It ended up being his biggest album in decades. I decided to do the same, not for the sake of sales (which have slowed to a trickle as my performance schedule has halved, then halved again in recent years), but for the spirit of the record. Which would you rather hear, my solo performance of "The Rainbow Connection"? Or as a duet with Amber Rubarth? Exactly.
The second idea? Do it all for charity. Music (sadly) isn't the primary breadwinner in my small stable of jobs, hobbies and pastimes, anyway. Why not go the "Holiday Benefit" route and give all the proceeds to some great kid's music charity?
So all of this was floating around in my head and on various sketch pads (I've been drafting fictional album track lists since I was in high school), revealed only in small burst of conversation (inquiry, really) with Abbi. Until last month's "Hope For Haiti Now" telethon. I was prattling nervously backstage with longtime colleague, father of two, and one-time "Living Room Tour" host, Gil Kaufman, when I sprang the idea on him. "Do it now," he said. "You'll never have time once the baby comes."
The next morning, of course, found Abbi and me on a beach in Dominican Republic. A few days in, when the sun and waves had worked their magic on her, I began unspooling my great plan. Seconds after Abbi bought in, I was on my Blackberry scheduling studio time with Chris Cubeta, and lining up all-star special guests. Amazingly, everyone said yes. And so, by the time I lined up at US Customs in New York City, it was all lined up before me: the tracks, the band (Chris, Tony and Ryan), the guests, and the plan.
Saturday afternoon, the guys gathered at Chris Cubeta's Galuminum Foil Studios is Brooklyn to lay down basic tracks for the four full-band tracks: Bob Dylan's "Forever Young" and "Mr. Tambourine Man," Simon & Garfunkle's "The Only Living Boy In New York," and The Muppets' "Rainbow Connection." (You can watch the first in a series of "Making 'Forever Young' videos below). This Sunday, Misty Boyce, Jamie Leonhart and Casey Shea will help me lay down "Golden Slumbers," "Morning Has Broken," and "Amazing Grace."
Here's the complete track list:
1 – Morning Has Broken (featuring Misty Boyce)
2 – Forever Young (featuring Emily Easterly)
3 – The Rainbow Connection (featuring Amber Rubarth)
4 – The Only Living Boy In NY (featuring Chris Abad)
5 – Sweet Baby James (featuring Jeff Jacobson)
6 – Mr. Tambourine Man (featuring Bryan Dunn)
7 – Golden Slumbers (featuring Casey Shea)
8 – Moon River (featuring Bess Rogers)
9 – Hallelujah (featuring Chris Cubeta)
10 – Amazing Grace (featuring Jamie Leonhart)
As you can tell, these aren't just "Kid's Songs For Kids Of All Ages," they're great, timeless (though, not surprisingly, largely dating to my childhood) moving songs about life and youth. As ordered, they track the arc of the day, from waking ("Morning Has Broken") to slumber ("Moon River"). And what an amazing slate of collaborators! Each one was chosen for their awesomeness, and their relevance to the song. I can't wait to hear what we come up with!
Per Gil's advice, I'm endeavoring to bag everyone's parts well prior to Abbi's due date (June 9). I'll mix and master everything in my (no doubt) copious free time this summer. The current plan is to release at an all-star, charity affair at Rockwood Music Hall (where, of course, Abbi and I met) on/around our third wedding anniversary (October 6). (It's all connected.)
Of course, my not-so-secret objective is to play these recordings to Baby Wagner as they progress from rough tracks to finished songs and as he/she progresses in the womb (I've already been singing them acapella for weeks). Hopefully, we'll bring Baby Wagner to the release show. And hopefully, these songs will help his/her little neural pathways develop, and maybe even come to mean something to him/her someday.
Either way, as "Crash Site" marked my reckoning with my childhood, or "The Invention Of Everything Else" reflected my passage into marital bliss, "Forever Young" will mark this new chapter in my — scratch that — in our lives.
February 12th, 2010
Abbi and I went to our first birthing class the other night, a three-trimesters in three-hours mini-marathon spanning everything from reflexology to relaxin.
The class was held at Real Birth, a pregnancy, childbirth, breastfeeding and new parent community center born of the Elizabeth Seton Childbearing Center (where Ethan was born). It's a brick-walled, hard wood-floored storefront on Eighth Avenue bookended by a laundromat one one side and sushi joint (West Side Sushi, which I've been patronizing for years) on the other. I paid special attention to its opening last year, cognizant of it employees and patrons alike: liberal-looking folks, free-thinkers, I imagined, some combination of hippies and yuppies (huppies?), if looks are any indication (which they're not). I gave Abbi a hand-made Real Birth gift certificate for Christmas (they were closed when I went by for an actual one). I had a hidden agenda, I'll admit.
I look like a capitalist on the outside, I know. But don't let the sport coat fool you; I'm dubious of most anything society considers status quo: industrialized agriculture, big banking, media and pharma. Best as I can tell, the free market has messed up everything from energy to education to health care and Happy Meals in the last thirty years. I'm not sure I completely understand why (I guess I can thank my parents who had the temerity to follow their curiosity well beyond the Iowa state line), but — while I may occasionally eat a Big Mac or direct deposit at CitiBank or take an Excedrin — I'll rarely do so unwittingly. See also: child birth.
I don't know what my sources were prior to Ethan's birth, or Rickie Lake's documentary, "The Business of Being Born," (I suppose much credit should be given to my mother who spent a number of years working at ACOG, The American Congress of Obstetricians and Gynecologists, whose best=practices, perhaps, I absorbed by osmosis), it just never made sense to me that a baby be born into bright fluorescent lights, yellowed linoleum and cold stainless steel. Still, I've been married long enough to know better than to opine on a bunch of half-baked opinions outright.
So there we were, Abs and me, in the basement of this Hell's Kitchen "community center" a few minutes after six o'clock on a weeknight. Yoga mats, blocks and blankets were stacked against the wall. A bright-blue exercise ball sat in the corner. Real Birth founder and "The Big Book of Birth" author Erica Lyon sat alongside a white board and some diagrams on a folding chair. She wore comfy-looking shoes, chunky glasses and whispy hair. Seven of us (five mother and two dads) faced her nervously.
She gave us her email and phone number right away, then began speaking authoritatively (like a mother and a teacher) with a hint of exhausted (like a mother and an entrepreneur). She walked us through the trimesters, and considerations around providers and locations. I took notes ("later-term development: kidneys and brain"), beginning to wrap language (episiotomy rate, continuous vs. intermittent monitoring) around my intuitions while Abbi nodded knowingly. When Erica mentioned the value of hydration, I handed Abbi my water bottle. When she explained Lamaze, Braxton Hicks, and Birth From Within, I reached out to rub her shoulders. When she walked us through the labor process, I began to really see Abbi and I delivering our child together for the first time, and found myself flush with tears.
Timeless as it is, commonplace as it may be, and trite as it may sound, the concept of creating life, giving birth and becoming a parent is enormous for me. Were it not for Abbi's increasingly-significant bump, or last month's ultrasound, I might not even believe it was happening to us. For a sensitive guy like myself (to say nothing of someone who is so old and lived alone for so long), it's a lot of change. I keep reminding myself to focus on Abbi's needs, afford her latitude on account of hormones, and brace myself to become secondary. I keep trying to squelch my anxiety about a sterile birth presided over by some Nazi automaton, about being boxed out of the process, becoming irrelevant. I keep trying to let go of my expectations, my fantasies, my thin skin. I keep telling myself, "It's not about you."
Afterwards, it took me approximately six minutes to say the wrong thing (or, the right-intentioned thing the wrong way). I bit my tongue, affording us both time to settle into what we'd learned about the rapidly-approaching gaping yawn. Sliding home through the blizzard-strewn streets, I held Abbi close against the wind, and remembered something Erica said.
"Right now, you're worrying about your baby's health, and your baby's birth," she said. "And you think, 'If I can just get the kid out here and count all the fingers and toes then we'll all be ok!' But I think you're going to find that you don't stop worrying when your baby's born, you just start worrying about other things."
Evolutionary biology is an amazing process. It makes something news from a pair of something elses. It divides cell after cell, each one knowing what it is, where it goes, and what it does. It gives a new mother nausea to inform her something major is happening. It protects the fetus from a new mother not yet heeding these new signs by not implanting, then ramps up relaxing production, loosening joints to increase flexibility. It creates vernix to protect a baby's skin, and create an environment for bacteria to culture and build an immune system. It truly is one miracle after another.
And once we're here, blinking into the bright light of our new lives? All we can do is keep breathing.
February 8th, 2010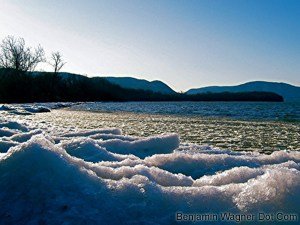 "It's not about us anymore."
Tarrytown, New York, is a quaint little village tucked into the eastern bank of the ice-choked Hudson River, some 25 miles north of midtown Manhattan. One of my earliest NYC-pals, John Rosenblatt (he of SNL Shorts fame) his wife, Marnie, and son, Wylie, hosted Abbi and me for brunch.
There, forty minutes of breathtaking Washington Irving-style, Metro North-delivered beauty later, we witnessed an alternative universe: three bedrooms, river views, an silence as far as the eye could see. Wylie's perfectly reasonable teething-cries notwithstanding, it was twenty-five miles from Midtown, and half a world away.
Back home in Hell's Kitchen, Abbi and I surveyed a few junior fours (aka on bedrooms with semi-enclosed second bedrooms suitable for babies) here at The Westport. Twenty-one floors above ours, our real estate agent ("I'm just an old queen from Chelsea!") introduced us to a couple just one two-year-old ahead of us. Their living room was wrapped in protective tape, and swaddled in blankets. It was a mess.
Downstairs again, we looked around the apartment and assessed what would have to give: the dining room table, the chairs, the shelves. Sitting there in half-light of disk considering our domain, the lease we were about to sign, and the inevitable future just moments away, I frowned.
"It's all over, Abs," I laughed. "Our place is gonna' be a tiny, toy-strewn mess!"
"Honey," she said, "It's not about us anymore."
In the final minutes of the day, I struck out for a run along the river. The sun was a fierce-orange fireball over the icy Hudson. My iPod was crowded with inspiration. My chest was wracked with frozen air. My head was loaded with a confounding, thrilling future. I ran home into Abbi's arms.
"I couldn't do this with anyone else," I said. "And I can't wait to do it with you."
Hours later, we sat amongst friends in front of the television. Superbowl play (frittered away as mine was with preparing homemade guacamole, chile and pizza) paused for halftime. The Who mounted the laser-strewn stage, and launched into their set. Abbi stirred.
"Oh my gosh!" she said, smiling. "I haven't felt Baby in days. He must like The Who!"
I raced to her side, and placed my palm on her belly.
"Oh my gosh!" i said, smiling. "I felt it!"
And again. And again.
"The exodus is here," Roger Daltry sang.
Kick.
"Let's get together before we get much older."
February 4th, 2010
Funny story from Dominican Republic. Sort of.
Our hotel, Casa Colonial, was wedged in the middle of Playa Dorado, a World Bank-funded hotel, golf course and mall development roughly half-way between the Puerto Plata Airport, and Puerto Plata itself. Again, I can't say enough nice things about the hotel itself, and particularly the staff. Playa Dorado, was oddly-contrived (horse-drawn carriages to shuttle pedestrians the literally dozens of feet between hotels, for example) and antiseptic, though. It took me less than twelve hours to bust out past its gated guard posts and into the real Dominican Replublic which felt immediately more authentic.
So… Monday morning I decide to venture further still. Puerto Plata is a shipping port on the northern edge of Hispaniola, some 150 miles northeast of Port-o-Prince, Haiti, and 250 miles south of Puerto Rico. It's lush, mountainous, and densely covered in thick jungle. Christopher Columbus, in his first trip, named the mountain above the port Monte de Plata because the foggy peak looked like silver in the sunlight. The name stuck.
As a Spanish Colony, it was considered the main commercial port of the island. In April 1563, the settlement became notorious when the English privateer Sir John Hawkins brought 400 enslaved Sierra Leonese there, trading his victims with the for pearls, hides, sugar and gold, kicking off trans-Atlantic Slave Trade, in which 20 million people were forced into slavery.
I ran northeast on Highway 5 (Avenida Circunvalacion Sur), hopping steep and crumbled curves, and dodging great sinkholes in the uneven sidewalk. The four-lane road (six, really; drivers used the shoulder like a passing and stopping lane) was choked with pickups, vans and motorcycles all loaded well-beyond capacity with passengers, and all spewing thick, gray exhaust that hung over everything. The roadside was dotted with advertisements, most for cellular companies and a just-completed local election. Drivers and passengers alike looked at my like I was crazy.
In just over a mile, I began to pass small, colorful storefronts with gated windows and bare displays. I passed a small, cinder-block strip mall with a horse tack, a pet shop, an appliance store, and a knocked-off Toys-N-Us (complete with bootlegged Jeffrey the Giraffe).
Locals stood huddled beneath trees, waiting in the shade for busses and cabs. I smiled at everyone I passed, and even offered a few broken attempts at "buenos días," but to no avail; not one person returned my greeting.
Some two miles in, I passed the local baseball stadium. I turned to circle its yellowed, crumbling walls, where I spotted a faded Coca-Cola advertisement a few paces from a burned out car in a deserted back alley (I couldn't help but consider the irony of importing sugar water to an island built on sugar and slaves).
Avenida General Gregorio Luperon leads from Highway 5 to the sea, where it parallels a wide, deserted, wind and plastic-swept swath of beach clear into Puerto Plata. The sky was fierce blue. The sun shone white through the misty waves. I lept small streams like hurdles, striding towards a great outcropping of rock a few hundred yards out to sea snapping photos. Which is when it dawned on me.
For a year or more now, I've shot a series of short videos in beautiful, tranquil places: Smith Point, Nantucket, Hulluver Creek, South Carolina. Keepsakes, if you will, of quiet times to stow away for harried ones.
I knelt there in the sand, steadied the camera on a piece of wood, pressed record, and lost myself in the rush of adrenaline, wind and waves. What happened next? Press play.
February 1st, 2010
Remember those single-panel "Family Circus" cartoons where illustrator Jeff Keane drew a rambling, dotted line to indicate little Billy's often-mischievous and always-circuitous routes around his neighborhood?
Were Mr. Keane to illustrate Abbi and my week in the Domincan Republic, he wouldn't need to use much ink.
Casa Colonial provided VIP treatment from the start, ushering us through customs, into a waiting van, and straight to our room. Suite Six (or Doña Rosa, so named for the owner), was a five-room affair: living room, dining room, bedroom, bathroom, spa. Everything was sparse, crisp, and local, from the sculpture on the living room table to the mini-fridge full of El Presidente Cerveza.
After sleeping off my "Hope For Haiti" hangover on the beach, we settled into a lazy routine: a few minutes in the gym, two-hour breakfast on the veranda, afternoons reading on the beach, sunset on the rooftop pool (virgin piña coladas for her, Casa Colonial's special "Four Diamonds" for him), dinner in the room, rest, and repeat.
Playa Dorado is a complex of resorts just south a Puerto Plata, a sleepy port on the north-central coast. The beach is average, its waters mudded from dredged sand and shored choked licenced hucksters — cigars, sarongs, bandanas, sunglasses, you name it — hocking their wares on European and Canadian package tourists. It would be largely skippable were it not for our impecable little boutique hotel.
We did break out beyond the wire a few times, once to scuba dive (and snorkel) in nearby Sousa (beautiful little cove besought be the same uncomfortable capitalist impulses; beach chair rentals were one hundred pesos a day and the visibility was for naught), and once for a long run to El Fuerte de San Filipe.
Mostly, though, Abbi and I just spent our time together, taking walks, making plans, debating baby names, and generally relishing a few days of relative tranquility. It was about all we could have hoped for, plus eighty degree weather.

Click To See More Photos >>>
February 1st, 2010