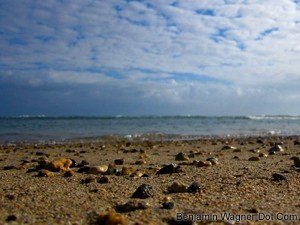 Funny story from Dominican Republic. Sort of.
Our hotel, Casa Colonial, was wedged in the middle of Playa Dorado, a World Bank-funded hotel, golf course and mall development roughly half-way between the Puerto Plata Airport, and Puerto Plata itself. Again, I can't say enough nice things about the hotel itself, and particularly the staff. Playa Dorado, was oddly-contrived (horse-drawn carriages to shuttle pedestrians the literally dozens of feet between hotels, for example) and antiseptic, though. It took me less than twelve hours to bust out past its gated guard posts and into the real Dominican Replublic which felt immediately more authentic.
So… Monday morning I decide to venture further still. Puerto Plata is a shipping port on the northern edge of Hispaniola, some 150 miles northeast of Port-o-Prince, Haiti, and 250 miles south of Puerto Rico. It's lush, mountainous, and densely covered in thick jungle. Christopher Columbus, in his first trip, named the mountain above the port Monte de Plata because the foggy peak looked like silver in the sunlight. The name stuck.
As a Spanish Colony, it was considered the main commercial port of the island. In April 1563, the settlement became notorious when the English privateer Sir John Hawkins brought 400 enslaved Sierra Leonese there, trading his victims with the for pearls, hides, sugar and gold, kicking off trans-Atlantic Slave Trade, in which 20 million people were forced into slavery.
I ran northeast on Highway 5 (Avenida Circunvalacion Sur), hopping steep and crumbled curves, and dodging great sinkholes in the uneven sidewalk. The four-lane road (six, really; drivers used the shoulder like a passing and stopping lane) was choked with pickups, vans and motorcycles all loaded well-beyond capacity with passengers, and all spewing thick, gray exhaust that hung over everything. The roadside was dotted with advertisements, most for cellular companies and a just-completed local election. Drivers and passengers alike looked at my like I was crazy.
In just over a mile, I began to pass small, colorful storefronts with gated windows and bare displays. I passed a small, cinder-block strip mall with a horse tack, a pet shop, an appliance store, and a knocked-off Toys-N-Us (complete with bootlegged Jeffrey the Giraffe).
Locals stood huddled beneath trees, waiting in the shade for busses and cabs. I smiled at everyone I passed, and even offered a few broken attempts at "buenos días," but to no avail; not one person returned my greeting.
Some two miles in, I passed the local baseball stadium. I turned to circle its yellowed, crumbling walls, where I spotted a faded Coca-Cola advertisement a few paces from a burned out car in a deserted back alley (I couldn't help but consider the irony of importing sugar water to an island built on sugar and slaves).
Avenida General Gregorio Luperon leads from Highway 5 to the sea, where it parallels a wide, deserted, wind and plastic-swept swath of beach clear into Puerto Plata. The sky was fierce blue. The sun shone white through the misty waves. I lept small streams like hurdles, striding towards a great outcropping of rock a few hundred yards out to sea snapping photos. Which is when it dawned on me.
For a year or more now, I've shot a series of short videos in beautiful, tranquil places: Smith Point, Nantucket, Hulluver Creek, South Carolina. Keepsakes, if you will, of quiet times to stow away for harried ones.
I knelt there in the sand, steadied the camera on a piece of wood, pressed record, and lost myself in the rush of adrenaline, wind and waves. What happened next? Press play.