September 5th, 2009
In December, I travelled to Washington, D.C., to cover President Obama's Inauguration for MTV News. I was managing the operation, for the most part, but broke ranks one afternoon to interview one of my artistic heroes, Shepard Fairey.
USA Today's Pop Candy Blog linked to the resulting article. So I sent its editor, Whitney Matheson, a thank you email. We talked about our mutual love of R.E.M., and agreed to grab beers sometime, then got sucked up into the cycle of our respective lives.
Fast forward to two week ago. I sent Whitney an email about our "Mister Rogers & Me" fundraising efforts over at kickstarter.com. I had a hunch she'd get it based on a) my experience with her appreciation of Mister Rogers in general and b) her support of my buddy Brian Linder's Save MIster Rogers' Neighborhood campaign.
Find out what happened next at "Making 'Mister Rogers & Me.'"
September 4th, 2009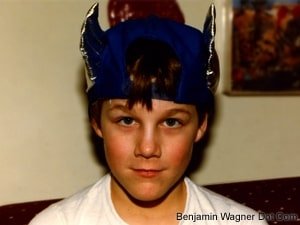 Sometime after midnight thirty-eight years ago today in a sterile-white, fluorescent-lit University of Iowa hospital room, my parents welcomed me into the world just a few weeks shy of my due date.
My mother was studying classical guitar that summer. Moreover, the acoustic balladeer — James Taylor, Carol King, Jim Croce, Joni Mitchell, Jackson Brown, Cat Stevens, Bob Dylan, Simon & Garfunkle, CSN — was everywhere then, including my parent's record player.
Those elements combined (presumably) with genetics, the position of the moon, the frequency of my family's moves, the arrival of my first transistor radio (and shortly thereafter, Sony Walkman) and the desire to escape into headphones drove my love of listening to, and, eventually, my performing and creating music.
From John Denver's 1974 Washington, D.C. performance to R.E.M.'s 1987 Philadelphia show and thousands of rock shows, radios and iTunes in between, millions of musical moments have made me the musician and fan that I am.
Thirty-eight years in, then, here's a list of thirty-eight of my favorite, most hugely-influential songs in rough chronological order:
John Denver "Leaving On A Jet Plane"
Shaun Cassidy "Da Doo Run Run"
Daryl Hall & John Oates "Kiss On My List"
Olivia Newton-John "Magic"
The Human League "Don't You Want Me"
A-Ha "Take On Me"
The Go-Go's "Vacation"
Barry Manilow "Copacabana"
Billy Joel "My Life"
Tommy Tutone "867-5309 Jenny"
Neil Diamond "America"
Styx "Paradise Theater"
Men At Work "Overkill"
Duran Duran "The Chauffeur"
Howard Jones "No One Is to Blame"
Hooters "Hangin' On A Heartbeat"
R.E.M. "South Central Rain"
They Might Be Giants "Ana Ng"
Tears for Fears "Everybody Wants to Rule the World"
U2 "Where The Streets Have No Name"
Don Henley "Boys of Summer"
Luka Bloom "Delirious"
Sinead O'Connor "Nothing Compares 2 U"
Pearl Jam "Alive"
Toad The Wet Sprocket "Come Back Down"
Paul Westerberg "Dyslexic Heart"
Matthew Sweet "Girlfriend"
Counting Crows "Mr. Jones"
Ben Folds Five "Whatever and Ever Amen"
Oasis "Wonderwall"
The Wallflowers "One Headlight"
The Verve "Bittersweet Symphony"
Death Cab For Cutie "Crooked Teeth"
Guster "Homecoming King"
Ryan Adams "New York"
Fountains Of Wayne "Troubles Times"
David Gray "The One I Love"
The Envy Corps "Rhinemaidens"
Of course, there's a story behind every one of them. Taken together, though, maybe I've arrived where I departed. As The Envy Corps' frontman Luke Pettipoole refrains in the closing bars of "Rhinemaidens," "Let's sing songs despite the devil."
Thirty-eight years later, the world is still is cold, bright, loud, jarring, disruptive place. A handful of songs, though, puts (almost) everything in its right place.
September 2nd, 2009
Yesterday afternoon, I raced uptown to a doctor's appointment on West 96th Street, tripping out of the cab some fifteen minutes late. It took me at least thirty seconds to realize the appointment was on 86th Street.
Just seventy-two hours shy of leaving Nantucket, then, I was plunged back into my nuance-free life: rush rush, blur blur, wake, sleep, wake. It's like being at sea for a month; terra firma is disorienting.
Worse, this waking life scarcely affords time for reflection or appreciation.
My office is a south-facing, Midtown rectangle on the 29th floor. From there, I can see the entire West Side of Manhattan, the Hudson spill into the bay, Ellis Island, Staten Island, the cliffs and green of New Jersey and — on most nights — a fairly striking sunset.
It is rare, however, that I see anything at all. My desk faces the wall. Unless I swivel, I see only my dual computer monitors. As my friend Bo Lozoff once asked me , "Is it possible that tens of millions of Americans don't feel they have any time for the beautiful noble or sacred? The vicious, crushing pace of life — wanting stuff, and getting stuff and having stuff and using stuff and buying stuff and then, of course, replacing stuff, repairing stuff, protecting stuff, defending stuff — it's just so vicious."
As with last year, then, I spent a few minutes every day last week snapping photos of the exact same thing: the tiny, lone, stilted house at the edge of Hither Creek in Madaket.
And like last year, it was an exercise in nuance; everything shifted: clouds and colors, shadows and shapes.
I called Abbi as I hailed a fresh cab to whisk me the remaining ten blocks in a hurry (strategically failing to inform her of my gaffe).
"Oy," she said. "What a day."
"Yup," I said. "It's slips away pretty quickly. But at least we have it in our minds, and we can show up there any time."