The Miracle Of Showing Up, Part II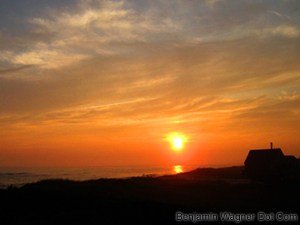 Yesterday afternoon, I raced uptown to a doctor's appointment on West 96th Street, tripping out of the cab some fifteen minutes late. It took me at least thirty seconds to realize the appointment was on 86th Street.
Just seventy-two hours shy of leaving Nantucket, then, I was plunged back into my nuance-free life: rush rush, blur blur, wake, sleep, wake. It's like being at sea for a month; terra firma is disorienting.
Worse, this waking life scarcely affords time for reflection or appreciation.
My office is a south-facing, Midtown rectangle on the 29th floor. From there, I can see the entire West Side of Manhattan, the Hudson spill into the bay, Ellis Island, Staten Island, the cliffs and green of New Jersey and — on most nights — a fairly striking sunset.
It is rare, however, that I see anything at all. My desk faces the wall. Unless I swivel, I see only my dual computer monitors. As my friend Bo Lozoff once asked me , "Is it possible that tens of millions of Americans don't feel they have any time for the beautiful noble or sacred? The vicious, crushing pace of life — wanting stuff, and getting stuff and having stuff and using stuff and buying stuff and then, of course, replacing stuff, repairing stuff, protecting stuff, defending stuff — it's just so vicious."
As with last year, then, I spent a few minutes every day last week snapping photos of the exact same thing: the tiny, lone, stilted house at the edge of Hither Creek in Madaket.
And like last year, it was an exercise in nuance; everything shifted: clouds and colors, shadows and shapes.
I called Abbi as I hailed a fresh cab to whisk me the remaining ten blocks in a hurry (strategically failing to inform her of my gaffe).
"Oy," she said. "What a day."
"Yup," I said. "It's slips away pretty quickly. But at least we have it in our minds, and we can show up there any time."