Forever Young: Benjamin Wagner's "Forever Young" LP Track-By-Track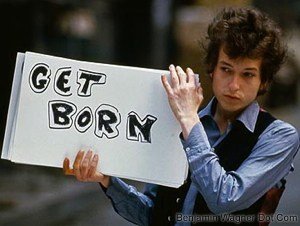 In the summer of 1971, my mother was learning to play acoustic guitar.
I was born in September, deep in the heart of the Singer/Songwriter Era: James Taylor, Carol King, Bob Dylan Jackson Brown, John Denver, Crosby, Stills & Nash were all on heavy rotation on The Wagner Family hi-fi.
My birth announcement was the lyrics to Elton John "The Greatest Discovery" superimposed over a family photo.
Little wonder, then, that — thirty-eight years later as my wife and I counted down to our daughterMaggie's birth — I began to frame her entrance into the world in heartfelt, earnest songs strummed and sung.
And little wonder that — as her first day approached — all I could wish for her was, well, everything. And no song better captures the wishes of a father for his child than Bob Dylan's 1974 single, "Forever Young." Author Bill Flanagan writes of the song's origins:
After an eight year break from touring, Dylan's legend was big enough to fit all twelve apostles and still have room for a couple of Buddhas. He agreed to go back on the road in 1974 with The Band, his old backup group who had become stars themselves during the down time. They got together and quickly knocked off an album, Planet Waves, that featured two versions of a blessing from a parent to a child. In the years he was away from stage Dylan had become a father [Ed. Note: to Jakob Dylan]. He had that in common with a good chunk of the audience. The song reflected it.
In "Forever Young," Dylan scribbles a generation's values on the head of a pin. "May your heart always be joyful," he sings. "And may your song always be sung."
Chris Abad, Tony Maceli, Ryan Vaughn and I recorded basic tracks in March with Gary Atturio at Galuminum Foil Studios. I recorded final vocals in Maggie's nursery here in our Upper East Side apartment just a few weeks after she was born. Chris LoPresto delivered a transcendent piano performance (as he did at my "Last Show Ever" — ha ha — in March, which you can download here). Producer Jon Locker added Dylan's signature Hammond Organ (complete with whirling Leslie speaker) in Des Moines.
But it's Brooklyn singer/songwriter Emily Easterly who transports "Forever Young." I first met Emily as we prepared last year's "A Holiday Benefit, Vol. 3." Emily's voice sounds lived in: long-days, late-nights, and hard-knocks. But flecked with confection: powdered-sugar, or at least Splenda. She is the soul of the song; the high-notes and harmonies all at once.
Together, Emily and I deliver all that I could ever wish for my daughter's brand-new life in melody and harmony both saccharine and sanguine:
May you always be courageous
Stand upright and be strong
And may you stay forever young
* * *
"Forever Young" is a collection of all-star cover songs for the young and young at heart. Proceeds will be donated to The Fred Rogers Center and The Campaign For A Commercial-Free Childhood. Though neither is affiliated with the project in any way, we believe strongly in supporting their efforts towards advancing early learning and children's media. The complete "Forever Young" track list:
1 – Rainbow Connection (featuring Amber Rubarth)
2 – Forever Young (featuring Emily Easterly)
3 – The Only Living Boy In New York (featuring Chris Abad)
4 – Mr. Tambourine Man (featuring Bryan Dunn)
5 – You Are My Sunshine (featuring Jason Walsmith & Becca Smith)
6 – Sweet Baby James (featuring Jeff Jacobson)
7 – You've Got A Friend (featuring Mai Bloomfield)
8 – Golden Slumbers (featuring Casey Shea)
9 – Amazing Grace (featuring Jamie Leonhart)
10 – Moon River
Download "Forever Young" on iTunes, or purchase a physical copy from Authentic Records Online now!