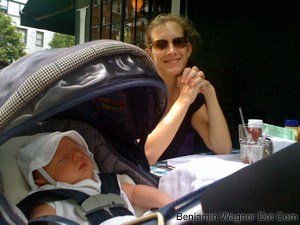 I set out like a total rookie: no sun hat, no burp towel, no bottle, not even an extra diaper. I scarcely pulled a baseball cap over my eyes and flip flops on my feet. It was just Maggie, me and a stripped-down stroller.
Funny how quickly we forget. It doesn't seem like much now, some fifteen hours later. But at four in the morning, when her mother and I'd both taken hour-long, overnight turns endeavoring in vain to sooth her to sleep, her tiny, spastic head butts, grunts and gasps — adorable as they may seem in the daylight — turn downright maddening.
By sunrise, we'd lost track of the time-space continuum. All I knew was that, when she cried, it was my turn to feed. Mags and I lumbered into the kitchen, warmed a bottle (applying to the kitchen sink the now, five-week-old rule that running water calms), then sat quietly in the living room. Some thirty minutes later, when four ounces of delicious, high quality, Mommy Milk was gone, burp delivered, and swaddle applied, I began rocking her to sleep.
No luck.
Abbi tossed and turned in bed, trying to sleep despite Maggie's racket and my obvious frustration, then said, "Why don't you take her for a walk?"
Within ten blocks of random, early-morning wandering, Maggie's eyes fluttered closed, her flailing arms settled, and her mouth fell agape.
I kept walking for nearly two hours as the city woke up. Doorman tipped their caps and paused their street cleaning. Early shoppers (all elderly) smiled and asked, "How old?" And a steady parade of Daddies on Duty passed by with a knowing nod.
Later, Abbi and I strategized our break. As Maggie's afternoon feeding wound down, Abbi said, "Everything ready? Sun hat? Burp towel? Bottle? Diapers?"
Maggie had scarcely dozed off into her post-breast feeding stupor when we strapped her into the stroller, and sped downstairs for the earliest JG Melon cheeseburger ever. We grabbed a table outside just a few minutes before five o'clock, ordered in haste, and then ate nervously as she startled and stirred with every passing Hampton Jitney. Success!
And that's it. That's Sunday with Maggie: a roller coaster, funhouse, coffee-fueled all-nighter where laundry, dishes, and diapers are regular, repeating and relentless. Still, I am filled with more love than I ever thought my body could hold.
Just now, I spent thirty-eight minutes rocking back and forth in the bathroom positioned in the perfect-aural center between the shower and the faucet holding Maggie tightly against my heart, her bottom in my right hand, her head in my left. I gingerly rocked my way into the bedroom, and carefully lowered her into her bassinet like a high-stakes game of Operation; touch the sides, and the baby cries. She stirred, then settled. I tiptoed out of the room, and resumed writing.
Eight minutes later, she began crying. I stepped back in the bedroom, and scooped her up. Her eyes were wide and black, lips splayed, limbs all akimbo. She'd broken free of her swaddle, and was screaming. I rocked her for another ten minutes, swaying side-to-side and shushing gently in her ear. She stopped crying. Her body relaxed in my arms. And finally, her tiny head slid softly onto my shoulder as if it was custom made for her.
Because it was.