To Do (Or, The New Normal)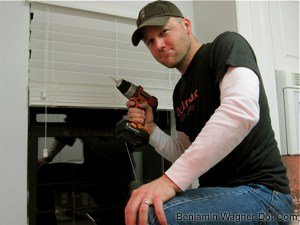 Suffice to say that the twelve miles I ran from the base of the Manhattan Bridge to and twice-around Prospect Park was the easy part.
It dawned on me deep within the fluorescent-lit walls of Ikea just a few hours later to Tweet, "I am in hell." But I thought better of it on account of Abbi's feelings. This was, after all, a crucial shopping trip. Our goal was singular an clear: furnish the baby's room. And, maybe, get a little something for the kitchen.
In fact, the Ikea in Red Hook has its advantages, like its proximity to Park Slope (where I ran said above race), and its stellar view of Manhattan. But there are only so many variations on shelving units a man can take. I know this, because over and over and over, across the crowded showroom floor, I saw the same exchange between couples. She stares at the piece as if studying a chess board. He pokes at his smartphone. She gestures in his directions. He shrugs. She flails her arms. He grimaces, and endeavors to find an opinion. Rinse, lather, repeat.
Six picture frames, three hours, two wicker baskets and an ice cream cone later (thanks, honey), we headed for the exits lacking one key item: the crib.
"We might as well go to that baby store in Brooklyn," Abbi said. "I know there's one here somewhere."
So she Googled it on her iPhone. Which, somehow, via endless, jam-packed, stoplight-strewn surface streets led us deep into Bensonhurst. Yup, Bensonhurst. Where we found nothing.
"Babies R Us is right down the street," Abbi said.
And so it was that struggled through late-Sunday BQE gridlock to yet another of Brooklyn's lesser known neighborhoods, Seagate. Where we saw the exact same cribs that we'd seen the day before at the Babies R Us in Union Square. Which is when, gratefully, we threw in the town, and headed back to Manhattan.
At this point, I've undersold my general anxiety around driving in the city. Picture this, then. Four lanes, bumper-to-bumper traffic, Polish neighborhood deep in Brooklyn, pedestrians everywhere, D train overhead, horns, Town cars, private busses. Turn right. Merge onto the BQE. Twelve lanes. No movement. Hand gestures.
Back home on 71st Street, I double park, and drag the 100+ pound dresser inside. Then I rebuild my brother's backseat: three baby seats straight across. Then I drive east towards the park to return his SUV, and am greeted with street closures on account of a parade. I call Chris as I step out of the garage.
"Welcome to your new life, dude," he says. "You're a glorified sherpa now."
I walk from West 72d to East 71st and head straight to the grocery store. When I finally make it home at seven o'clock, I unpack the groceries, unload and load the dishwasher, then spend two hours drilling, screw and generally fumbling with new blinds. Then I take out the garbage and recyclables.
None of which is too bad, except (perhaps) in succession. And in projection. Sure, it was a long, largely-thankless day, which in and of itself is not a huge problem. But its hard to imagine that this is not at least a significant bit of foreshadowing for the rest of my life: driving, shopping, drilling, cleaning.
Somewhere in the middle of my power tool usage, I hollered to Abbi, "Surprise me with some crazy take-out. Will you, honey?" Twenty minutes later, Indian showed up. Ten minutes later, the baby was kicking, wondering (I assume) just what Abbi had mainlined into her placenta.
So we sat there on the couch cradling her belly quietly giggling. All the miles, schlepping and building were fine. It was worth it; we were building something new together.