Moment Of Zen: Litchfield Beach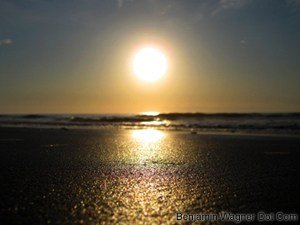 Litchfield Beach sits just south of Myrtle Beach, South Carolina, a broad and flat stretch of sand at the center of Long Bay.
I rose before dawn to greet the sunrise there, hit the sand, and turned north towards Murrell's Inlet. The waves were soft and low, the water grayish-blue. The sun peaked over the water a few miles into my run, just as the modest, gray-clapboard houses gave way to the rolling dunes of Huntington Beach Park.
I jogged into the park at a break in the sand, following a shallow creek to a pond bolstered by evergreen and seagrass. I turned off my iPod, and relished the rush of the wind through the blades of grass.
Back on the beach, I crouched at the edge of the waves to capture that moment of zen when the sea meets the sky, and the sound of the waves meets my breath.
Jogging home, I saw a break in the water. A black tail splashed near the edge of the waves. The droplets hung in the air backlit by the sun like a thousand tiny prisms. And it dawned on me: dolphin! I jogged alongside him a while, then rushed back home to tell my father.