May Your Song Always Be Sung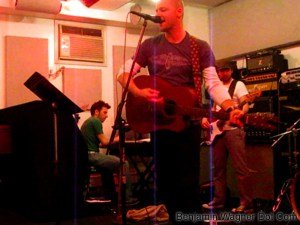 It was a strange rehearsal. But then, it's been a strange gig from he outset.
I booked this Thursday's Rockwood Music Hall performance months ago, but didn't mention it to the guy's until a few weeks ago; I wasn't sure how to approach it (solo, acoustic, electric, etc), I just knew I wanted to get one-last show in before the baby comes. And I knew I wanted to play it exactly five years to the day that Abbi and I met there.
A few Thursdays back, I mentioned the booking to Chris Abad.
"A Thursday night at eight o'clock?" he asked, tugging on his beer. "Let's play a rock show!"
So I checked in with Ryan.
"I'm in!"
And then Tony.
"Bummer dude," he replied. "I'll be in Hawaii."
Back to the drawing board, then, Ryan suggested we tap his pal Brian Killeen on bass. And then he suggested we add his pal Chris LoPresto on keys. Suddenly, we had a fairly formidable band on our hands.
Which was strongly in evidence at rehearsal the other night. Sure, it took us weeks of emails to find a date that worked for all of us, only to discover it didn't work for Ryan so we rescheduled. And sure, Ryan dropped his cell phone behind the amps which were bolted to the floor of the rehearsal studio which required the owner to grab his drill and go to work. And sure Chris LoPresto showed up a half-hour late on account of a scheduling snafu. But, man! You should've heard us!
Oh, wait, you can. Watch this video.