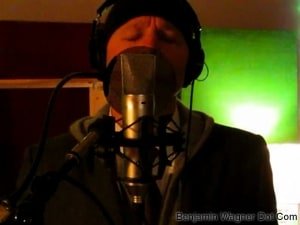 Last night, just before her eyes turned heavy after her traditional page and a half of reading, I slipped a pair of Sony headphones onto Abbi's belly, and pushed play.
I was running two hours behind my "Forever Young" recording schedule when singer/songwriter Misty Boyce finally took her seat at the piano. She banged out "Morning Has Broken" with just seconds of practice in three takes. Moments later, we began recording our cover of The Beatles, "Golden Slumbers."
"Do you think I'll be hung in effigy if I added an extra chorus?" I asked.
Misty said simply, "Do it."
And so we did.
Again, she nailed it in three takes. Still, something was off.
"It feels a little bombastic," I said through the studio's talkback. "Can you try using that pedal? What do you call it? The damper or something?"
"Try this," she said.
Two minutes and seventeen seconds later, we had it: soft, sweet, subtle, and perfect.
Listening back in the control room, I couldn't help but hug Misty.
"This song sounds like I always imagined this record would feel!"
Last night, Abbi and my little baby heard for the first of what I plan to be hundreds of times a sound and a sentiment I hope s/he will bask in forever and forever: "Sleep now darling don't you cry."