The Future Needs A Big Kiss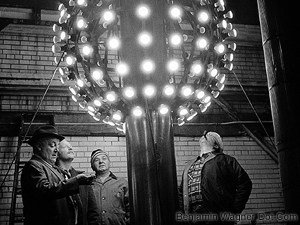 I woke up at 4:36 this morning, then spent an hour and a half tossing, turning and rolling a thousand work-related worries over in my head.
We ended the year on a strong note, delivering success metrics well above our ambitious goals. But media and technology are changing quickly (so much so, it occurred to me, "Mister Rogers & Me" risks looking quaint by the time it finally premieres). In the final days of the year, I ran the department through an outline of our 2010 strategy. Last year, it was "More, Shorter, Faster, Smarter." This year, it's "First, Best, Must." And then we took a ten-day break. And now we're back.
Two quick indications today that 2010 is already moving too fast within the first ten hours of the new (work) year:
1) We were asked to cover a shoot on behalf of one of the channel's shows and a forthcoming film. Before we even made it to the location, though, one of the characters posted a snapshot to her Facebook profile that was immediately posted on a notable media blog. Scooped by the source. (And in the end, no interview.)
2) On the way home, I passed my local video store (Video Cafe on Ninth Avenue, never been inside, frankly) and spotted a hand-drawn sign (markers on poster board) reading:
VHS For Sale
3 For $10
Action, Drama, Comedy, More
I met Abbi at the grocery store, pulling something of a meet cute in the dairy aisle. At home, we settled into a terrific two-hour PBS special, "This Emotional Life." We've been discussing (not surprisingly, and like every other major brand) the value of harnessing "social" — ie: Facebook, Twitter, etc — at work. But this two-hour, well-considered, beautifully-rendered documentary was the real thing, digging into bona fide human interaction — empathy, engagement, understanding — not kilobyte connections.
At the end of a long, anxious day (and what is sure to be a long, anxious year), it was reassuring to remember that at the heart is still the heart of it all.