What a year. From The Inauguration to The Oscars to my tenth New York City Marathon, no previous loop around the sun has been more jam-packed with mind-blowing moments.
I played the Iowa State Fair, contributed a song to The Nadas "Crystalline" compilation, and helped raise four grand (and counting) for 826NYC with "A Holiday Benefit, Vol. 3."
I spent a week on Bray's Island, one on Grand Cayman, and another in Nantucket. I took in The Brickyard 400 (and many Foster's oil cans), celebrated Abadfest 2: Electric Boogaloo, and narrowly escaped a perilous rising tide in Boston Harbor.
I ran dozens of beautiful, inspiring journeys through the five boroughs, including one twenty mile jaunt to Rockaway Beach where I lost (and later found) my wedding ring.
At work, we nearly doubled the size of our audience through tireless hours of reportage on Michael Jackson, Rihanna and Chris Brown, and thousands of other smaller stories. I shot U2, spent nearly three weeks in Los Angeles, six nights on live TV, and a weekend tethered to the marquee of Radio City Music Hall.
For all the big moments (and photo ops), though, my favorite memories are the more-personal and intimate ones: Abbi and I holding onto each other as the concept of our impending parenthood sank in, my brother and I wordlessly navigating a challenging "Mister Rogers & Me" edit, Chris Abad and I laughing off work over beers, Tony Maceli's goofy-eyed, mid-song glance.
Year's ago now, when I set out for four-nights of fasting alone in the Utah wilderness, I said to my guide, "Wish me luck." He replied, "I wish you difficulty." Only after returning from my vision quest did he explain. "We learn more from adversity than ease."
2009 was a difficult year for all of us. 2010 will likely be more difficult still. Big or little, impossibly challenging or remarkably easy, though, I wouldn't change a single moment. As Tobias Wolff writes, "We are made to persist, to complete the tour; that's how we find out who we really are."
Here, then, are a few snapshots of who I was in 2009, and who I take with me into 2010.

Washington, DC Inauguration (January)

Miami Marathon (January)

Oscar Red Carpet (February)

U2 In Boston (March)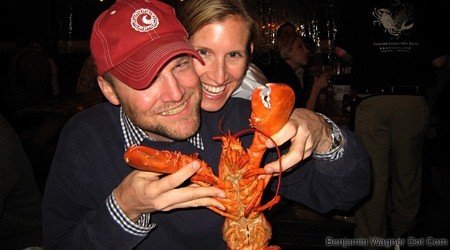 Boston, MA (May)

Grand Cayman (June)

Brickyard 400 (July)

Iowa State Fair (August)

Nantucket (August)

Video Music Awards (September)

Abadfest 2: Electric Boogaloo (September)

Abbi's Pregnant! (October)

NYC Marathon #10 (November)

A Holiday Benefit, Vol 3 (December)