Pride (In The Name Of Love)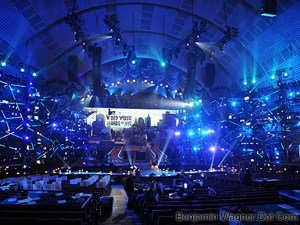 I stepped into Times Square at 12:33 tonight, some sixteen hours after first stepping foot in the office. The sidewalk was slick.
"Huh," I thought. "Weather."
This afternoon, I stood outside MTV video Music Awards rehearsals at Radio City Music Hall as one of our crews interviewed the Creative Director in a cramped, curbside mobile office.
I looked up from 49th Street to Rolling Stone Magazine's offices, and though back to a fall day in 1995 when I watched VMA arrivals there as a young intern. It never would have dawned on me then that I would be in the position I'm in now.
For most of the day, I wandered Radio City unfettered, lurking in the back as Wale, Pitbull and 3OH!3 rehearsed, Russell Brand conducted interviews, and the legions of crew prepared the historic venue for Sunday night's big show.
A few hours, three slices of pizza and at least two stomach-turning, sweat-inducing crises later, I hailed a cab on Eighth Avenue, relished the sweet smell of wet concrete and wondered, "Do I have thick enough skin for this job?"
I grabbed a beer at the corner store, kissed my beautiful, sleeping wife on the forehead, and repaired to the patio to breathe a while before extinguishing the last brushfire of the night with a few well-worded emails.
A colleague ended a thread thusly: "Mister Rogers would be proud of you."
"I appreciate your saying so," I replied. "Though I don't know if that's true."
"Still," I finished. "I will make him proud yet."