Moment Of Zen: Smith Point, Nantucket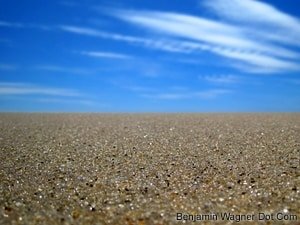 I could hear the back-to-work buzz before I even stirred from the sheets this morning. Trucks slammed their way up Tenth Avenue. Cabs honked. Tires screeched.
There was an actual traffic jam stepping out of the elevator this morning. Blue blazers stumbled over dog walkers tripping over baby carriages. There was nearly a four-person pile up before we even hit the street.
By the time I made it to Times Square, I had to laugh; the place was teeming with suits, three times more than last Tuesday, all racing around like headless ants. And then I spotted my colleague, Monty, striding deadpan and intense toward the revolving doors, clutching two iced-coffees.
The seasons change quickly around here, but none more aggressively than summer. One minute, there's no line at the Jamba Juice. The next, it's all Christmas sweaters and Secret Santas.
Of course, the Video Music Awards add insult to injury, slamming into the Monday after Labor Day like clockwork. This year even more so, as news leaked this morning that Janet Jackson would kick off The Big Show. I raced over to Radio City to tape a stand-up with Sway, and we were confronted with it: the six thousand seat, one-time largest movie theater in the world was decked out like a rock 'n roll "West Side Story," all scaffolding, bare bulbs and massive monitors. It was, um, overwhelming.
Last April, I uploaded a fifty-nine brief seconds of near-silent canoe floating fresh from Haulover Creek, South Carolina.
Today, then, as an anecdote to all of our back-to-work and back-to-school blues, I give you this: one minute and twenty-six seconds of waves rolling slowly over the edge of Smith Point, Nantucket. Notice the rising tide cresting over the sand, the passing seagull's shadow, and how the breeze dries the tiny grains of sand. The hush was palpable there, the hurry up and wait of New York City eons away.
Enjoy; moments later, we were under water.