The Day I Almost Ran A Marathon (By Accident)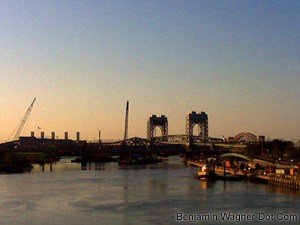 With all the glass, concrete and stone, it's easy to forget just how much water there is in and around New York City.
The City's total area is roughly 470 square miles, some 165 of which is water. From the Hudson and East Rivers to Flushing and Jamaica Bays, there are over a 1,000 miles of shoreline criss-crossed by some sixty bridges.
There are few more dramatic vistas than sun, sea and sky, which means that this great, big city is full of opportunity. One bridge in particular held my interest: The Triboro. It's not much to drive over (as anyone whose taken the FDR to Laguardia Airport will attest), but it's a unique collection of three bridges that, over the course of three miles, connects The Bronx, Manhattan and Queens.
As soon as I determined that the bridge was pedestrian-friendly, I decided that wanted to see the city from mid-span. Unlike my last two long runs (seventeen miles to Coney Island, and twenty to Rockaway Beach), my Triboro Run would be a loop. (I loath out-and-backs; what adventurer wants to retread his previous steps? Give me new terrain!)
I estimated twelve or so miles through Manhattan and The Bronx, across the Triboro, then back through Queens and across the 59th Street (or Queensboro) Bridge. With the New York City Marathon less than six weeks out, though, I needed more miles, so I decided to toss in the southern tip of Roosevelt Island.
Sunday morning, then, greeted me with near-perfect running conditions: clear, crisp, and breezy. I set out just before sunrise (setting out to Coldplay's "Life In Technicolor," as always), and made my way across town to East 71st Street (where I spotted a woman apparently adjusting her drapes in the nude at 6:31 a.m.) and picked up the East Side Promenade. I crossed back over the FDR at 115th Street into Jefferson Park where, at seven in the morning, people were setting up their Labor Day BBQs. My objective was to cross the Willis Avenue Bridge into the Bronx (the reverse, as it ends up, of the NYC Marathon course), but the sidewalk was under construction. So I improvised, pushing further into Harlem for the next crossing. I crossed the Third Avenue Bridge where the river slacks and narrows, surrounded by warehouses and factories.
In 1945, urban planner Robert Moses proposed a six-lane expressway run through the heart of the South Bronx to connect New York City with Long Island (an eventually that would lead to its suburbanization). This project was one of the most ambitious of the time: blasting through ridges, crossing valleys, redirecting rivers and leveling entire neighborhoods. At the time of construction, the expressway crossed 113 streets, seven expressways and parkways, one subway line, five elevated lines, three commuter rail lines, and hundreds of utility, water and sewer lines.
Most blame Moses for decimating the Bronx. Jogging under the massive, swirling concrete of the Bruckner Interchange, it's difficult to disagree. It's an environment straight out of an Ayn Rand novel, tiny patches of sunlight and grass dwarfed by massive, crumbling concrete. I've never seen a more garbage-strewn street than 135th, bracketed by the Major Deegan Expressway to the south, and the massive 12 acre Millbrook House urban development complex to the north. And, as I circled the shadowy underpasses looking for the pedestrian entrance to the Triboro Bridge at 33d and Cypress Avenues, I've rarely felt less safe.
A word about running through unknown urban neighborhoods like the South Bronx or Queens Bridge. I am a white, bald guy who runs in sunglasses, Nike gear, and Asics shoes. On long runs, I wear an iPod and carry a Blackberry (for navigational and communication purposes). It's difficult not to feel conspicuous in these far less-affluent (ok, depressed), often shuttered neighborhoods. I don't worry about being mugged; I don't have much worth stealing, and anyway, I'm running (and kind of a big boy). I worry about someone (or a pack of someones) deciding that I'm trespassing on their turf. I worry about random violence and stray bullets. I worry more, though, about not being adventurous, or courageous. I worry more, though, about living within the confines of pre-determined, safe neighborhoods. It's a great, big world out there. There's a lot to see. And so I put my shoulders back, nod and wave, and push onward.
I was thrilled to climb the stairs to the fist span of the bridge, but quickly disappointed by its descent. No sooner than I'd climbed the Triboro, than I was on Randall's Island. I asked a young, Latino gentleman in a soccer jersey if he had any idea where the pedestrian path picked up again, but we couldn't understand one another. So I kept running figuring, worst case, I'd turn around.
Just as I began to despair, I spotted a sign that read "Queens Pedestrian Bridge." I passed Icahn Stadium (where I saw the Tibetan Freedom Concert over ten years ago), and the Manhattan State Hospital (where ragtime composer Scott Joplin was hospitalized for schizophrenia). And then I saw it: a massive, covered walkway apparently cobbled onto the side of the bridge.
A few minutes later, there I was: mid-span on the north side of the Triboro Bridge (now, I came to learn, known as the Robert F. Kennedy Bridge). At nearly two-hundred feet — the pedestrian path is elevated above the roadway, its edges guarded by modest, four-foot railings — it was a stomach-churning vista: Hell Gate Railroad Bridge running parallel, spanning the swirling, shimmering East River below; Laguardia Airport, Flushing Bay and the Throgg's Neck Bridge to the east; Forest Lawn and Park Slope rising to the south; massive 747s launching from JFK on the horizon; and the New York City skyline like a great, glass and steel picket fence on the edge of it all.
I had already run well over ten miles as I descended into Astoria, Queens. I ducked into the first deli I could find, bought a Poland Spring, and dropped in a Nuun tablet. I jammed down a PowerGel, washed it down, and started running back toward the river. The neighborhood was a low-lying collection of aluminum-sided, multi-family houses many with taxis parked out front. I passed the Socrates Sculpture Park, then headed south on Vernon Boulevard past a — surprise! — Costco Super Store amidst the warehouses, parking lots and corner stores. At 36th Street, I crossed the small, red, lift-bridge onto Roosevelt Island.
Once called Blackwell, then Welfare, and now Roosevelt Island is a narrow, two-mile-long, 800-feet-wide island spanning in the middle of the East River. Since the 17th Century, it has provided home to a prison, insane asylum, and smallpox hospital. Today, it is an, vaguely-Orwellian collection of apartments and hospitals. But it's location is remarkable: the city sparkles alongside it, the 59th Street Bridge towers over it, the river rushes around it, and still it feels almost completely disconnected; there are just two ways on or off: the aforementioned bridge, and the tram.
My original objectove was to to the northern-most point of the island. There's a lighthouse there that, legend has it, was built by an inmate of the insane asylum. It's a breathtaking view there, one fomented by turbulent water. Something (probably that I hate doing half of anything) drove me onward, though, which ended up a good thing.
James Renwick is primarily known for his design of St. Patrick's Cathedral on Fifth Avenue in Manhattan. At southern tip of Roosevelt Island, through a narrow fence, along a gravel road and through some thicket, I ran past the ruins of the Renwick-designed Elmhurst Smallpox Hospital (which, I've come to learn, are undergoing a $4M renovation). It's a creepy, awesome shell of a place dating back the mid-19th Century. Just beyond the ruins, the island ends. The East River opens up to the massive Turtle Bay edged by the United Nations and Sty Town. The Williamsburgh Bridge, and Savings Bank loom far in the distance.
At this point, I'm pushing eighteen miles, and I still had to get back to and over the Queensboro, then across town. So I ducked into a Gristedes for a Gatorade, choked down two Advil, and set out for the Queensboro Bridge. Back in Queens, the blazing sun on Vernon Avenue felt downright hostile. My legs were getting heavy and slow. Queens Plaza was just ahead, though, and soon I was trudging slow and steady up the bridge's eastern span. I snapped a photo mid-span, pausing (any excuse to pause at twenty-two miles) to notice just how poor my manual dexterity had become with my exhaustion; I couldn't type into my Blackberry for the life of me (though I did manage to post updates on Facebook).
57th Street, while gratifyingly familiar, was torturously slow with its tourist-strewn sidewalks and traffic-choked avenues. I relished each stop, though, pausing to stretch my sore back. Starts and stops and adjustments of any sort were increasingly difficult, though, as my muscles would only carry me one way: forward. A young man sprinting heads-down against traffic ran full into me at Fifth Avenue. And though I swore loudly, it was a welcome dose of adrenaline.
Back home on Tenth Avenue, I realized that I was just a few tenths of a mile short of twenty-four, and a few minutes shy of four hours, so I ran a few blocks past my apartment then stopped even: three boroughs, four hours, twenty four miles.
Yes, I under-estimated my mileage. And yeah, I probably ran through a debatable few neighborhoods. But to wake with the sun, to see the city from the heights, and to take in every single step in between is worth all the soreness in the world.
The best part? There are hundreds of miles of shoreline and dozens of bridges left to run.