The 2009 Brickyard 400 (Or, Speedway Nights: The Ballad Of Jimmie Johnson)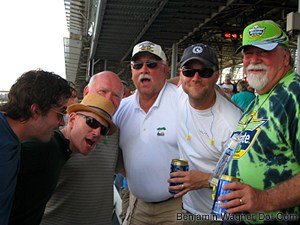 First rule of Nascar is you don't talk about Nascar.
It's not that facts, statistics, cultural judgments, stereotypes or general biographical data aren't valuable. They are.
Of course (like you), I knew nothing of Nascar until last year's Brickyard 400. This (now seasonal) confab was born of a conversation at my bachelor party and the desire to a) in Indianapolis (a city, sorry dad, with few other event-oriented justifications for visitation) and b) spend more time with dudes.
Before last year, I couldn't fathom why someone would sit in the sun for six hours watching brightly-painted cars blow by. And then, with the waving of the green flag, I was a convert.
Because the thing is, words fail the visceral impact of the sport. It's all about the racket.
And I'm not talking about that haggard cliche, "The roar of the engines." Nah ah. You don't know Nascar until you've felt it in your solar plexus.
Nascar is a living lesson in The Doppler Effect. Cars pass in a blur and a whir and whine straight out of Star Wars — but faster and louder. The pitch it somewhere between a Japanese crotch rocket and a F15 — but faster and louder and multiplied by 42 cars and 240 laps.
As I write this, I'm 62 laps (and three Foster's oil cans) into my second Brickyard 400. It's a father and son weekend in Indianapolis. It's my pops and me, my Uncle Stan and cousin Andrew, plus high school buddy Jimmy and his dad Don. Raising the stakes? Jimmy works with #99 (currently #23 up from 41st start position). Raising them further? We're in the fourteenth row just a hundred feet off the start.
There is some sense of cliche here, of course: too-short cutoff jeans, families decked out in their racers colors and logos, missing teeth, mullets, chewing tabacco and cigarettes. But, for a few hundred thousand people baking in the sun and basting their livers on Budweiser, the crowd's enthusiastic and civilized.
Just a second ago, Andy and I spotted a six-years-old kid and his father. The kid's not wearing earplugs, but is rockin' camouflage shorts, blond hair, and #24 Jeff Gordon baseball cap. They're eating eating ice cream cones and smiling.
"If he goes to one race for the next thirty years he's good for $30, 000," Andy says.
"Add in three beers, a turkey drumstick and a t-shirt and you're talkin' at least another another three grand."
Aaah, capitalism.
Which is the thing. Here I am watching 42 cars (38, actually; four have dropped out) whizz around a track at 150mph (after, of course, a five fighter jet flyover) — we're talking thousands of gallons of Middle Eastern crud, huge carbon footprints, garbage, sewage, spectacle and waste — and I'm loving it.
***
6:24. The race is over. Jimmie Johnson won in a surprise upset over Juan Pablo Montoya who was penalized for — get this — speeding in the pits. The sun's setting on thousands race fans crawling through bumper-to-bumper traffic — a stark contrast to the 158mph speed junkies we've been watching for the last four hours.
I'm dizzy, exhausted, hoarse and a little bit nauseous from the fumes. But I'm happy: bone-tired, liver-worn, tummy-busted happy.
See you next year, race fans!