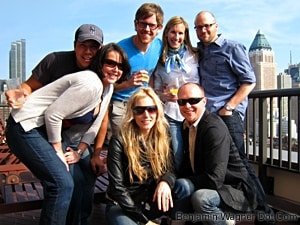 For months, I'd been trying to get my Rockwood Music Hall pals together in an amplifier-free environment.
It's not that I don't like amplifiers. My recent bout with tinnitus notwithstanding, there are few places I'd rather be than standing between a few of 'em creating a beautiful racket. They're just conducive to bona fide conversation. Add in lice drums, a hundred people talking, the ambient rumble of traffic and trains and it's tough to say anything at all. Factor in that I record, rehearse and perform roughly 75% less than five years ago, and …
And then you'd understand why, months ago, I began clamouring about some sort of rock 'n roll dinner party; something more than a case o' beer and bag o' chips affair, but less than you'd see in Gourmet Magazine. Good luck getting a dozen rock stars together on any given night, though (heck, it's hard enough to coordinate rehearsal schedules). So I settled on the following:
You and your respective +1 are urged to join Abbi and me for an intimate, soft-rock Sunday brunch at which no one need book, perform, run sound, or applaud; just eat, drink, and be together.
Any good gathering (especially one populated by night-crawling rock stars) calls for a kickin' playlist. This one needed to be themed and nuanced, but just right for a Sunday morning bender. Here's a sampling:
Sunday Morning Coming Down (Kris Kristofferson)
Two Of Us (Aimee Mann & Michael Penn)
I Can See Clearly Now (Hothouse Flowers)
Here Comes The Sun (The Beatles)
The Cornflake Song (Dick Prall)
Champagne Supernova (Matt Pond PA)
Something So Strong (Crowded House)
Rock & Roll Singer (Mark Kozelek)
God Only Knows (The Beach Boys)
Sandusky (Uncle Tupelo)
Similarly, the menu needed to be simple but substantial (come to think of it, the same formula I endeavor to apply to my songs). In addition to fresh-baked fruit salad, home fries, and blueberry muffins, I freestyled (with a little help from Pam Anderson) the following egg dish:
16 Eggs
16 Ounces White Cheddar
1 Quart Half & Half
12 Slices Crust-Free Wonder Bread
Vegetarian Sausage
Asparagus
Plum Tomatoes
Chives
Vidalia Onion
Olive Oil
I'll spare you my preparation secrets, except to confess that nary a mixing bowl, paring knife, cutting board or no-stick pan went unused. In the end of my whirling dervish through the kitchen, there were orange rinds piled on the counter, blueberry juice splashed on the wall, and clumps of flower and turbino sugar cakes in the corners (to say nothing of the empty liter of Grey Goose and four bottles of Veuve Clicquot headed to the recylcing bin).
The weather held, and so the patio was officially opened. We ate and drank and laughed and talked about nothing in particular, but a few things not at all: booking, performing, running sound, or applause. It was kind of perfect except for one factor: like all good things, it had to end.
Our last guests left at six o'clock, but only because Abbi and I had committed to babysitting Ethan ad Edward. Left to my own devices, I might have transitioned from fresh-squeezed mimosas to fresh-squeezed margaritas.
That said, nothing beats tucking the fellas into their favorite mixtape, then hearing one of your songs quietly emanating from their tiny boombox. It's the perfect end to a soft-rock Sunday.