Live From The 2009 Grammy Awards!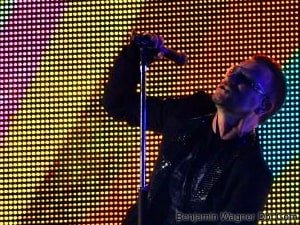 Well, kind of.
It's been three years since I last walked the Grammy red carpet.
Of course, truth is that I walked the carpet (which was Heineken green, as I recall) well in advance of the actual celebrities. The rest of the night, I was working across the street in a corrugated aluminum trailer.
We have a small crew at The Staples Center tonight. Most of us, however, are working from our Times Square newsroom. Which is just fine with me. Because it may be a late night, but at least it ends at home with Abbi.
Anyway, here are some real-time random musings on tonight's show…
8:01 – U2 as Grammy's opening act? Thought it was Radiohead for a second. Dig Edge's "Get On Your Boots" hook, and Bono in silhouette against that crazy but not crazy about the whole "sexy boots" thing. Lyrics feel like nonsensical, third-tier Dylanesque pastiche.
8:04 – Whitney Houston is BACK! (Yawn.)
8:07 – J Hud takes the sympathy vote.
8:08 – "Ladies and gentlemen, the star of "Escape To Witch Mountain…" I love Duane "The Rock" Johnson. But… um, huh?
8:16 – Abbi texts me, "I love you!" prompting me to call and ask her what inspired the random missive. "Al Green and Justin Timberlake! Aren't you watching!?!" Thanks, guys.
8:21 – The star of "The Mentalist" introducing Coldplay!?! Dude, if they trot out Katie Couric, I'm outa' here.
8:25 – Best as I can tell, Jay cleared his throat in the middle of Coldplay's "Lost."
8:40 – Coldplay thanks Sir Paul McCartney for "blatantly ripping off his 'Sergeant Pepper's outfit." Well done.
8:55 – Coupla' flat notes, but Taylor and Miley are awfully cute (and awfully young, nineteen and sixteen, respectively). Awkward how they went right into the Best Pop Collabo category…
8:58 – Taylor Swift hugging Robert Plant! Wow, I think I've seen it all. And I think we'll be seeing a lot more of Mr. Plant and Miss Krauss. (And did I mention that Jamie Leonhart and I covered Robert Plant and Allison Krauss' "Killing The Blues"!?!)
9:09 – First of all, I never thought we'd see Jason Mraz again, let alone on the Grammy stage. Second of all, Stevie Wonder with The Jonas Brothers!?!
9:15 – BLINK-182 IS BACK! I never thought I'd see these TRL staples on the Grammy stage, let alone reuniting there. Weird. The older I get, the less surprised I am by anything at all…
9:16 – Like, for example, Coldplay's "Best Rock Album" win. That's rock? "A little softer but just as charming." Nicely said, Mr. Martin.
9:23 – Katy Parry, tearing a page from U2's PopMart Tour, descends onto the Grammy stage in a banana (that looks alarmingly like a coffin).
9:31 – Last time we'll see Adele.
9:38 – First, what the f–k happened to Morgan Freeman's hand? Second, who knew he and Kenny Chesney were friends!?!
9:48 – Queen Latifah could make the back of a cereal box sound compelling.
9:49 – Do you think all those amplifiers are bad for MIA's baby? Or, for that matter, that bikini?
9:52 – Swagga, huh? Forget Jay, Kanye, Wayne, TI (who, of the four, wore his tux best), Sir Paul McCartney owns the night. (Great hair for a 67-year-old.) And Grohl makes him sound even better.
9:59 – Wait, the show's not over!?! Oh jeez.
10:19 – Radiohead, tearing a page from Fleetwood Mac's "Tusk," rocks the USC Marching Band shtick. (Also, great hair, Thom Yorke.)
10:32 – Were I at home, I would have been watching "Storytellers: Bruce Springsteen" and "Classic Albums: Phil Collins" on DVR hours ago.
10:35 – Grammy Neil Portnow overdoes the "Yes We Can," but follows Mrs. Rogers' lead with the suggestion that Barack Obama appoints a Secretary of the Arts. Nice!
11:04 – Meanwhile, teen pop sensation Chris Brown turns himself in to Los Angeles police for questioning surrounding a domestic violence felony battery report.
11:24 – And Album of the Year goes to …
11:24 – Did I mention that did I mention that Jamie Leonhart and I covered Robert Plant and Allison Krauss' "Killing The Blues"!?!