Run (Into The Arms Of America)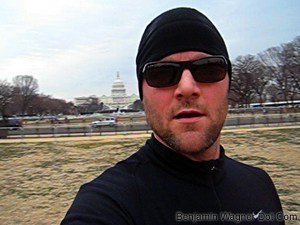 I love this country, though I wouldn't call myself patriotic.
I remember first appreciating the massive scope of the American landscape as I drove from Philadelphia to San Diego in college.
The four-week, 8553-mile road trip saw me traverse the Mississippi, Ohio, Colorado, and Rio Grande rivers. I camped in the Buffalo Wilderness, the Badlands, and the Virgin River Valley. I climbed Mount Ajax, and swam off Coronado. I spent hours on the road passing less people in two hours than I see in two blocks in New York City.
The very next year, though, I celebrated the birth of our nation by pointing my rental north towards International Falls, Canada; I just didn't want to spent another muggy, summer night inhaling cordite. Explosions — metaphorically salient as they are — never struck me as the best way to mark a milestone.
And so it was with some surprise that I found myself awed and inspired as I jogged a ten-mile loop around Washington, DC, this morning. From the Supreme Court to The Capitol to the Lincoln Memorial, the scale is epic. The vast, granite facades tower and stretch for miles streaked with red, white and blue bunting and framed by massive, flickering JumboTrons.
I circled The Capitol, pausing a moment to survey Barack Obama's inaugural vista. From his podium on Tuesday, he will survey his kingdom for a voice: thousands of citizens dotting The National Mall, Tidal Basin, and Reflecting Pool. In dozens of museums, the nation's intellectual property is backed by it's mightiest institutions: The FBI, FDIC, IRS, Bureau of Engraving. And across the river, the price of those treasured institutions: Arlington Cemetery.
I stopped to snap a photo in front of The Capitol Reflecting pool as The Edge ripped into his incendiary "Bullet The Blue Sky" solo. I looked up at the House and Senate, and considered the havoc those great chambers of debate have wrought from San Salvador to Vietnam to Iraq. As the last note of the solo decayed into the final verse, though, I turned to the great promise that these great buildings were build to deliver: that all men are created equal; that every voice counts; and that we're all in this together.
I was torn (as always) but buoyed, perhaps, by the opportunity tomorrow brings. And as I turned for home, Bono encouraged me further still.
"Run," he whispered, "Into the arms of America."