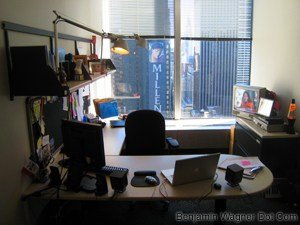 For weeks, I was dreading my first day back to work.
From from Christmas to New Years, there was just one thing on my mind: work. When I ran, I thought about work. When I ate dinner, I talked about work. When I lay in bed at night, I worried about work. Work, work, work.
The only "whole thing" I've ever run was my high school paper, The Conestoga Spoke (of which I was Managing Editor). The news department of a Fortune 500 is not even remotely similar. And here it was in my hands. Worse, I'd set ambitious strategic, programming and rating goals for the year for the team, then communicated them (with much ballyhoo) to the highest levels of the company. Achieving those goals in the midst of an economic meltdown and media paradigm shift wasn't going to be easy.
A funny thing happened on the first week of Q1, though. I learned a ton.
So when, by Wednesday, it became clear to me that, not only was there a chance I wasn't going to mess this whole thing up, but that it was going to be full of meaningful learning experiences, well, I started taking notes. Here are a few.
Monday: Maybe This Will Be Easy
On the firs day of the New Year, I set out for a marathon-training run (I'm running the Miami Marathon on January 25) around Manhattan. The plan was to run south along the Hudson, then around Battery Park and north along the East River. The West Side was freezing cold. The sky was filled with billowing, gray clouds. The cityscape was cast in dirty grays and washed out blues. The sidewalks and streets were empty. And I was worrying about work. As I rounded the bottom of the island, I thought about the spot right around 14th Street where the East River opens up to Turtle Bay. It's beautiful there, and strikes me as so every time. I pressed on. Sure enough, as I passed the ConEd station, the horizon opened up before me. The sun was out. The sky was big and full of opportunity. Midtown lay before me like a jeweled crown. Which is when it dawned on me. Maybe it's all about how I look at it. Maybe I should approach work as if it's going to be a success, not a failure. Maybe — from student council to The Spoke to Newhouse School to Rolling Stone and all the rock bands and blog posts in between — I was made for this. Heck, I thought, maybe this will be easy.
Tuesday: The First 100 Days Are The Most Important
Doing really well during my freshman year at Syracuse (primarily because I lived in a crappy dorm, had no friends, and studied all the time) enabled me to relax just a little bit and still finish strong. I'm not sure why I made that connection, or how I connected it with the notion of a new administration (though I am planning our inaugural coverage), but it made sense. So I've begun repeating that "The first 100 days are the most important!" — perhaps a bit too often.
Wednesday: Temper Your Intensity
I came out of the gate like gangbusters. Like, zero to sixty in our first morning meeting. It took until Wednesday to realize that, not only did we not have to figure it all out in the first week, but that we couldn't. Moreover, if every day feels like a fire drill, what do you do when the place is really on fire? This one occurred in a least-expected moment when I patted a pal on the back for no reason at all. 'I need to do that more,' I thought. 'Levity works.'
Thursday: It's Better To Exceed Budget And Expectations
I probably shouldn't get into the details on this one, except to say that I was planning some coverage, and was trying to do it inexpensively. When my supervisor has a grander vision, I remembered something my old boss used to say: "The easy problems are the ones you can throw money at." So while I didn't throw too much at it, I did increase our coverage. Because, I decided, the company's not going to give us any shit when we shatter our goals.
Friday: Every Affect Has A Cause
This was a late entry courtesy of a six o'clock, bi-coastal phone meeting. Conversations about how to best maximize PA, AP, Producer, Digital Producer, Copy Editor, Video Editor, and Writer skill sets given changing economic and technological times are going on in newspaper, TV, and Internet newsrooms all over the world. It's not about any one category of the production, but about building the best, most-efficient, multimedia team of journalists possible. In every one of those newsrooms, people wrestling with the biggest challenge of all: unlearning, and re-learning. I was discussing those challenges with a colleague when he said, "I'm a firm believer that if you want to change people's behavior, you have to look at what motivates that behavior." I haven't figured this one out fully, but it made sense, and I'm working on it.
Abbi and I were due to meet Chris and Megan Abad at 7:30 on Friday night. I raced out of the office at 7:23, texting Chris as I wove through the pre-theater crowd, "Be there in five!" Then I dialed up one of my perennial iPod favorites, Sugar's "Company Book."
In the epilogue, the company man
Takes his company life with his company hands
In his revelation he decrees
Exctinction of faceless robots like himself
Spawned from the company book
I don't know what this week has in store. It's going to be a long one, as I head to Washington, D.C. Saturday morning for MTV's Youth Ball, then return just in time to hop a plane to Florida (just in time to hop a plane to Los Angeles).
Either way, I ought to be interesting.
And either way, it's a safe bet I'll learn a thing or two more.
So do stay tuned…