"A Holiday Benefit, Vol. II" In Sixty Seconds
Listen, I know I'm prone to hyperbole, but last night's Rebel Spirit Music Presents: A Holiday Benefit, Vol. II" album release party was hands-down the single-most meaningful, beautiful and excellent artistic and community-oriented thing of which I've ever been a part.
There wasn't a bad apple in the bunch. And were I not a) exhausted, b) due at the office in eighteen minutes or c) still wearing last night's torn jeans and tuxedo shirt, I'd tell you all about it.
So here are the headlines:
The musicians killed it. I've never seen a more talented and passionate group of performers in one room, and — more importantly, perhaps — never seen more cross-pollination, cameos, and collaboration.
The silent auction drew some two thousand dollars in bids. The big item? The "A Holiday Benefit, Vol. II" guitar signed by all of the performers. Thanks Chris Abad for the great idea!
And we sold about sixty CDs. Which means we've paid off the manufacturing. So we still have CDs to sell. And we'd still appreciate your support. The holidays aren't over yet. Heck they've barely just begun!
So please download your copy at iTunes (and what the heck, leave a review!) or have our friends at CD Baby send you an actual CD. If you want to order more than ten (makes a great gift!), please email me directly.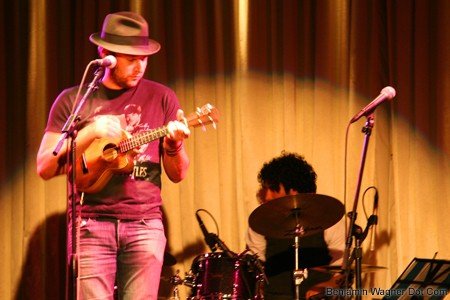 See all of the "Rebel Spirit Presents: A Holiday Benefit, Vol. II" photos here.