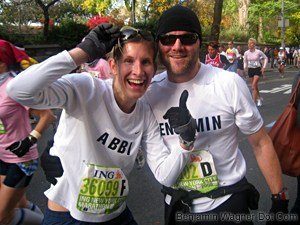 I don't care if I ingest another PowerGel for as long as I live. Or Gatorade. Or Cliff Bar. Heck, I could even go without Gummy Bears (at least for a few weeks).
Yesterday was my ninth New York City Marathon. Over the course of all that running (1,194 miles in 113 races alone, to say nothing of training), I've developed a number of tactics to keep four hours of monotonous, concrete-pounding, bone-crushing, mind-boggling running manageable.
Accordingly, in an effort to a) beat last year's abominable 4:42:00 and b) finish alongside Abbi, my 2008 NYC Marathon plan was, in short:
Cliff Bar half-hour before start
Salt packet at start
9:45 miles through Mile 20 (then faster)
PowerGel every 7 miles
Salt and Advil at Mile 20
Gummy Bears at Mile 22
Trident at Mile 24
Everything unfolded as I'd hoped, even better, really. It was a beautiful morning, just cold enough for long tights, a short-sleeve DryFit, my North Face windbreaker, plus fleece beanie and gloves (neither of which ever came off for long).
We started in the second wave (10:00 a.m.), and ran the Green Route which, for the first time in my marathon history, meant that we were on the bottom deck of the Verrazano Bridge (dark, windy, scenery-free). Still, I sang Ryan Adam's "New York" as I looked towards the Brooklyn Clocktower and Empire State Building, knowing that I'd pass them both — and then some.
I was (as I characterized myself to Abbi) cautiously paranoid for the first half. We were steady on with our splits (my Garmin Forerunner 305 watch assured that), though it felt fast. I was especially worried as Abbi and I approached the Polaski Bridge into Queens; the bottoms of my feet were already sore. My knees and quads too. Abbi, though — never more than a few paces off my shoulder — was feeling strong.
As we began our slow, cold, plodding ascent of the 59th Street Bridge, I was bordering on worried. I was hurting far more than I should for fifteen miles. I stuck with the plan, though, choking down my second PowerGel: Tangerine 2x Caffeine. I settled into the shadowy incline, taking in the east side where Abbi and I trained so many times.
By the time we hit First Avenue, I was cautiously optimistic. Suddenly, I felt strong. Manhattan crowds were ten-deep and four drinks in. They were loud, and I appreciated it. I took off my North Face to expose the bold-face B-E-N-J-A-M-I-N on my chest, and smiled every time someone shouted my name.
First Avenue was a breeze. I felt strong, and was gaining — not losing — strength. The crowd was loud in my face. The sun was warm on my back. And my competitors were growing weak. So, unfortunately, was Abbi. Her quads were shot. Her calves were shot. And her stomach was upset.
We paused a few minutes in the Bronx. The Rolling Stones "Sympathy for The Devil" was booming form a nearby PA system. I choked down a salt packet and two Advil dry, and stretched. Then we resumed. Abbi grew quickly impatient with my straight-data updates ("20.2 miles, 9:41 minute/mile, 3:38:08"), and less so with my goal-oriented ones ("If we keep steady on, we'll beat last year by at least twenty minutes"). She was reaching the point where everything disappears except the road ahead, torturous in its apparent infinity. I've been there many, many times.
But not this year.
The endorphins had kicked in. I wasn't running, I was floating. I could tell that Abbi had fallen further and further behind when the sound of the crowd's cheers ("C'mon, Abbi!" "Go Abbi!") faded. I'd pivot, turn, and run backwards until I saw her, then jog in place until we met again.
I kept looking at my watch, computing just how strongly I could finish if I sprinted it in. Sub-four was long gone, but I thought I had a chance at breaking the small cluster of 4:20s I'd run over the years. For a few mentally-agonizing miles, I considered asking Abbi if she minded my taking off without her.
Finally, though, I reminded myself that Abbi and I were committed to finishing together, and that this race was just a metaphor for the rest of our lives. Sometimes I'll be stronger, sometimes she'll be stronger, but — ultimately — we finish together.
My challenge, then — as we quickly strode away from my mother, dutifully cheering alone from the west side of 110th Street — was to quietly, patiently, and supportively run alongside my wife through the finish. I felt like I could fly, but didn't. That restraint was as difficult as any other physical challenge. Every time someone in the crowd cheered me, I thought, 'Dude, I could be running much faster.' Arrogant, maybe. At least this once.
Abbi and I crossed the finish line together in 4:25:01. Our time was a PR for Abbi, and my sixth-best of nine races. She barely noticed as I slid the medal over her head, and carried her off towards the medical tent.
A few hours later, we sat on the floor of my brother's apartment drinking beer, eating pizza and playing music with Ethan and Edward. Her blue lips had long-since given way to pink. Her cheeks were rosey again. The sparkle was back in her eyes. And, once again, I was reminded that there are two of us in this race. And we'll need all the PowerGel, Cliff Bars, Advil, Gummy Bears and salt to get us through the finish line. Most of all, though, we just need each other.