Random Notes, Volume LXIV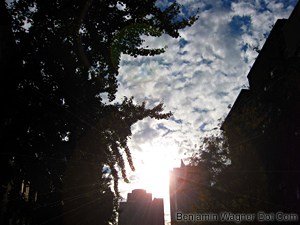 Even through my slightly-swollen, slightly-bleary eyes, the sky was beautiful this morning.
Jamie Leonhart (God bless her) came by again last night to track another "Blue Christmas" vocal for our "Holiday Benefit, Volume II" compilation. You'll recall that she came by last weekend to record some backing harmonies with me, but that was before it dawned on my that the song could easily be more of a duet. She'd had a long day, and was a little wound in advance of her big Joe's Pub show tonight, but I asked her to channel her best Patsy Cline. She delivered a smooth, countrified harmony with ease.
This morning, Abbi and I rose before the sun to knock out five miles. We're in the home stretch of our marathon training (t-minus twelve days and counting). Our last long run (fifteen miles) was Saturday morning. We're down to a handful of 3-6 milers now. (Last year this time we were training by walking from our cabana to the dive shop in the Maldives.)
My feet felt like wooden blocks as we approached Central Park. The sky was still dark blue as we ran through Columbus Circle. We paused for traffic, and I craned my neck and spun around like a tourist. The park was quiet save for the sound of bike gears, jogger's foot falls, and wind through the leaves (which are just beginning to change). Abbi and I jogged in silence. There were just two things on my mind: "I can't believe I have to run 26 miles," and an endless loop of "Blue Christmas."
And CMJ, which starts today. I'm moderating a panel, "Tweakheads," tomorrow afternoon. It's a panel on new technology in the music business which, on paper, makes sense for me to moderate. When I imagine the audience for the panel — college kids, mostly — I have to assume they're leaps and bounds more advanced than me in terms of "what's next." I'm more in the "what's next for big corporations who are primarily interested in adopting new things that create revenue." Anyway, should be interesting (and nerve wracking).
My pals The Nadas are in town for CMJ too. They're performing Thursday night at Alphabet Lounge (right before Chris Abad), and again Friday at Rockwood. I emailed Jason about their trip and my forthcoming live album yesterday. He wrote back early this morning, "I read about the CD on a Google alert." I replied, "I'm the worst label signee ever." And we had a laugh.
Which, I suppose, is a decent way to start any day.