Eighteen (More) Reasons To Love Her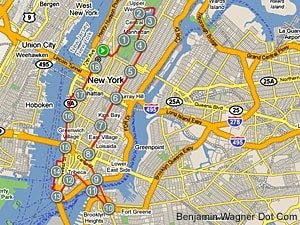 I figure it takes a special kind of someone to wake up at 5:30 on a perfectly good Saturday morning, lace up the Asics, and run around the city for three hours. The really special someone, though, is the teammate who runs it with you.
Yup, that was Abbi and me this weekend.
Increasingly bored with endless loops around Central Park, I was itching to get off the island. I studied Google Maps and Map My Run, and drafted a suitably ambitious foray into Brooklyn. Not too far into Brooklyn, mind you; my intended course to and around Prospect Park and back would have racked up too many miles.
And so the plan was simple: up and around the Central Park Reservoir, south on Park Avenue (conveniently closed to vehicular traffic thanks to Mayor Bloomberg's "Summer Streets" initiative), east across Canal to the Manhattan Bridge, back over the Brooklyn Bridge, then north along the West Side Highway.
Eighteen miles. Santa Monica to Long Beach. Cedar Rapids to North Liberty. Cleveland to Akron (well, half that, anyway).
It's a long way, trust me. But requisite, given that the New York City Marathon is little more than three months away.
Luckily, it was a beautiful morning: low seventies, blue skies, low humidity.
Central Park was routine: trees, ponds and puppies. A long line of tourists queuing up for Shakespeare In The Park.
Park Avenue was a blast: bicyclists, roller bladers and joggers gazing up wide-eyed at the empty street and skyscrapers as if it was their first time in New York.
These, Abbi and I are doing 3-5 miles four days a week, a long run on weekends, plus one morning in the gym. We spend a lot of time running. So much so that its possible that a few miles can pass in total silence. These days, though, there's plenty to talk about: jobs, homes, babies, families, friends. Not surprisingly, I'm often the one in monologue; I'm pretty talkative. So much so that I tends towards the apologetic.
By the Manhattan Bridge, though, I'd grown fairly quiet. My legs were running me; like some perpetual motion machine. Which didn't mean I wasn't hurting, or bored, or fantasizing about a big stack of buckwheat pancakes.
The pedestrian path on the Brooklyn Bridge is narrow and busy, and — by the time we crossed — pounded by the sun. Abbi and I ran single-file, dodging bikes, running groups, tourists, dogs, and the occasional homeless person sprawled across a bench.
Neither of us were terribly happy as we strode out of Battery Park City, least of all Abbi. She's ramped up her training pretty quickly this year. Eighteen was ambitious; her season best is 13.1. That ambition, though, is one of the reasons why I love her, which I remind her when we run.
"Babe, you're a badass," I say. "A three-time national champion! Three-time marathoner! All-time greatest!"
She scarcely cracked a smile, staring straight ahead "Terminator" like in her sunglasses.
By Chelsea Piers — beautiful as the sun on the water and the leaves on the trees and the public art were — that sort of talk was increasingly necessary. I checked my GPS every few feet, updating Abbi on our progress.
Finally, she said, "Just tell me when we're at eighteen, ok"?
And soon enough, we were, my champion and me.