The Miracle Of Showing Up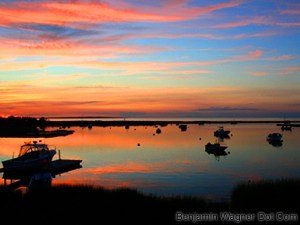 We rarely do much of anything in Nantucket, and I like it that way.
A typical day might involve a good run, a real breakfast (eggs, pancakes, etc), a trip to the beach, magazines, books, puzzles, and the ever-essential mid-day nap.
We rarely leave our little corner of the island save for trip to Cisco Brewers (for pints of Whale's Tale Pale Ale), Bartlett Farms (for fresh corn, tomatoes, and blueberry pie), and 167 (aka East Coast Seafood, for whatever Bill's caught that day).
Whatever we do, and wherever we go, the one constant is my camera (two, actually: a Rebel XT SLR and PowerShot).
For ten years now, I've endeavored to capture the spirit, beauty and tranquility of the place, if for no other reason than to bring a little piece of it home with me. This year was no different. I traipsed around the yard, crouching and straining for a new vista. I jogged with my camera in hand, and kayaked with one Ziplocked for safety.
After all these years, though, I'm subject to a number of increasingly cliched images: the macro shot of dune grass and sky, the wide-angle, open-aperture sunset.
And so, as I sat and pruned my images on those first nights there, I wondered, 'What can I do differently?'
I'm not sure if the inspiration struck at that moment, but something reminded me of one of the last thing's Bo Lozoff told Chris and I when we interviewed him for "Mister Rogers & Me."
When I was fasting, I would take [short walks] to keep my legs stretched during my forty-day retreats. I was coming back from one of those walking down here and as soon as I got to about where Chris right in front of me and him and the cabin was a long, black snake about six feet long and it had just begun to shed its skin. And I got to stand there and watch the snake shed it's skin. It was one of the great natural thrills of my life. Just watched it crawl out of its skin and leave it behind. Those are the kinds of things, yunno, unless you're somewhere like forty days in the woods by yourself you never — there are just things you can't schedule. But if you show up every day, you're going to see miraculous things.
Our view across Hither Creek into Madaket Bay and beyond was constantly changing. Moment to moment, the tide, clouds, sun, and elements conspired like a kaleidoscope: here the water is still like glass, then tipped with white caps; here the clouds a flat and gray, then glowing orange, red and blue.
It dawned on me then that our time there — heck, our time here — is to appreciate those subtle shifts.
That's it.
That's life.
And so, at random moments every day, I stepped out on the porch, positioned the camera just so, and snapped a few shots.
So this is it.
This is life.
This is the miracle of showing up every day.