Stars & Stripes & Brothers In Arms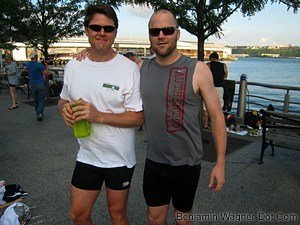 I'm not sure which was sweeter music to my ears: the sound of the random competitor's last gasp as I passed him mere yards from the finish line, or my brother saying after the race, "Damn dude, you crushed me."
Manhattan Island Foundation races are sweet little affairs, which is part of what I love about them. The field of competitors tend towards the hundreds, not thousands (like my beloved New York Road Runner's club, with which I have run 1124.9 miles in some 109 races). Races are often well off the beaten path, places like Battery Park City (where I competed in the 2006 Liberty Aquathon), South Street Seaport (or nearby, anyway, at the Brooklyn Bridge Swim) and Riverside Park (where I swam three weeks ago). Best of all, they tend to be scrappy, low-fi affairs. Last weekend, for example, racer's respective transition areas were chalk lines and numbers on the sidewalk.
Last weekend's was the Stars & Stripe's Aquathon, a 1.5k (.93M) swim and 5k (3.1M) run along the West Side. The transition and finish was just two blocks from my apartment on a brand-new patch of grass called Clinton Cove at 56th Street and Twelfth Avenue (aka the West Side Highway).
Abbi and I met Chris and transition, set out our gear (careful to avoid the city's sprinklers which, by race's end, had doused nearly everyone's bags), and walked solemnly uptown to the 72d Street kayak launch. The river was choppy, buffeted by a brisk northward breeze, and seemed to be flowing upriver.
Race organizers held on the start roughly twenty minutes to allow the tide to slack. We milled about talking, self-conscious in nothing but tights and a swim cap (well, I was anyway). Jen showed up with Ethan and Edward. And then it was time.
There were just two waves. Chris and I (and our new friend, Frizzo) were in the first. I jumped into the Hudson and immediately hit the soft, muddy bottom. The starter began counting down from thirty. I looked downriver towards Pier 96 and smiled; given how late we'd been out and how many margaritas we'd consumed the night before, I had no business jumping into the Hudson.
Cue the air horn.
The swim was sloppy with with flying arms and legs — as always. I spent more energy course correcting and avoiding other swimmers than I did moving myself forward. The chop was significant, at times lifting me out of the water before tossing me back down. I focussed on my stroke (which was erratic on account of the waves), and pulled myself towards the huge white Department of Sanitation pier growing slowly closer (yes, we had to swim around the Department of Sanitation). The chop slacked as we rounded the pier, and I began "picking victims," my time-tested process of identifying racers just ahead and trying to pass them. I picked up speed into the finish, then pulled myself out of the water and jogged hamfistedly towards my transition. Chris' running shoes was still there.
I started the run hot, sprinting out of transition while strapping on my GPS watch. When I looked down and it read 6:42, I knew I had to stabilize; I can't sustain sub-seven miles for three miles. Still, it was my home turf. I run that route a few times a week, so I knew what I was in for. I pushed myself pretty hard, fully aware that Chris (or Frizzo, whose casual conversation about the race's distance and well-chiseled, olive-skinned body inspired some competition in me) could pop up behind me at any minute. My brother has a tendency to do so, usually in a relaxed, fully-composed manner as I'm gasping and grunting towards the finish.
The run was an out and back, so I saw him shortly after the turn. He high-fived me and said, "Go get 'em, brutha'," which was really sweet, and really helpful.
So I did. Go get 'em, that is.
Specifically, I fell into place behind a short, Latino dude who was movin' along a pretty decent clip. For the last mile or so, I lay in wait behind him. Half a mile out, I heard footsteps coming on fast over my shoulder. An tall, skinny, older dude blew by both of us. So, of course, we both sped up.
I knew I couldn't catch the tall, skinny, older dude, and I didn't think I could catch the Latino dude. But as I rounded the elipse towards the finish, I saw Ethan and Edward romping in the grass. Ethan ran to the edge of the course and high-fived me. Energized, I pushed towards the tape. And as I passed the Latino dude, I heard him gasp; he didn't have it in 'em. (Hey, we've all been there).
I finished 24th of 110 competitors with a combined time of 51:05 (27:40 swim, 23:26 run). Chris followed shortly thereafter with a combined time of 54:57.
I'm not sure what makes me so competitive, especially with my brother. In the family myth, I was never the athlete. I fumbled my way through baseball and soccer, throwing in the towel as they turned competitive in high school. Chris lettered in baseball and football clear through to college where he dumped football and — with no experience save for a few weekends tossing the ball — picked up (and excelled at) lacrosse. We began riding, then running, then competing in triathlons together as he and Jen (the true athlete of the bunch) began their courtship.
I think it has more to do with proving something to myself (and, for whatever reason, you) than anything else.
Afterwards, families milled about the park, lazing in the morning sun. Ethan scrambled over some low rocks and splashed in some puddles. Edward replicated his every move. They ran through the grass ("Race me, Uncle Benjamin!" Ethan laughed), climbed railings, and peered into a huge glass bottle with a living room inside (a public work called, Private Passage).
I felt good about my finish, but better about the watching Ethan and Edward playing in the park. That's all any of it's ever really about anyway, right?