The Morning Fog May Chill The Air, I Don't Care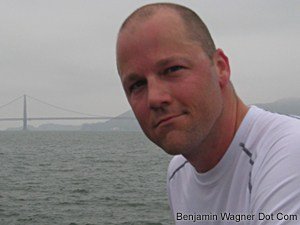 As I've said before, my favorite part about travel is running in a new town. This morning, that town was San Francisco. In fact, a good run had more than a little bit to do with my being here.
My primary raison d'etre for this sojourn was the Y-Pulse Mash Up, a conference for teen/tween-centric media and marketing types. It was great (as conferences go) if you're into things like, say, incentivizing user generated content (which I am). And the oatmeal raisin cookies were top notch.
But I won't front: I wanted to spend a few days in San Francisco. I like the place. The vistas are epic, combining all of the elements I love: sky, sea, and mountains all wrapped in fog and mist. What's more, the pace and values feel closer to home (some days) the New York or Los Angeles. There's less obsession with wealth and fame (best as I can tell, anyway).
I first came here when I was about nine-years-old (I'm pretty sure it was out last family trip). It was a big deal of a trip; I had a bunch of new outfits from Sears. All I wanted to see was Alcatraz, though I remember Fisherman's Wharf, Ghirardelli Square and loving the cable cars (the bells on which I hear outside my window now).
Years later, I returned on behalf of MTV. We'd just acquired a new company, then swiftly laid off fifty percent of its employees. I was dispatched to make friends with those who remained. (Not so fun.)
Somewhere in between those two trips, I visited my high school buddies, Sibby and Matt, in Berkeley, then pointed my rented Seabring south on The 101 to visit another high school pal, James, in Los Angeles (beginning my brief, inevitably failed love affair with The City Of Angels.
What's my most recent memory of San Francisco, you ask? David Fincher's "Zodiac." It's all I could think about as I walked around town tonight: that CGI tracking shot that zooms in over the Market District. But I'm getting ahead of myself.
I flew in Monday afternoon, hit the first half of the conference, returned to my hotel, got a massage (a duathlon followed by a five-hour flight call justify the extravagance), then crashed (I swear I was asleep before nine o'clock).
Fast forward. Six o'clock this morning. I'm climbing into my gear: Nike DryFit shorts and t-shirt, Thorlo socks, Asics Gel Kayanos, Ray Ban sunglasses. I strap on my iPod, wrap my PowerShot's strap around my wrist, and lean into my MacBook to figure out my route.
Here's the thing, though: my wi-fi is slow. So Google Maps is loading in square chunks. So when I decide to run clear across San Francisco to the Pacific Ocean, then beneath the Golden Gate, around the marina, and back up to the Ritz, well, it all seems pretty reasonable. After all, I have well over two hours to run just a few miles.
Ends up, though, the map's key was off on account of the page loading slowly.
This became apparent to me as I passed my fifth miles with no evidence whatsoever of the Pacific, let alone the Golden Gate Bridge. I passed through all kinds of adorable neighborhoods, and enjoyed some quality hill work. But the Pacific was clearly miles away.
It's a long story, and was a long run. I really had no idea where I was, but — as always — figured I culd run my way home. Trouble was, time was short; a few of my colleagues were speaking at 8:30 (can you imagine) and I didn't want to miss it. Worse, while hailing a cab may have made some sense, I didn't want to do that either. (What if someone say me?)
I didn finally find my way to a lovely view of the Golden Gate bridge, though (like many things) it was a little bit of a let down. I mean, it took me well over five miles to even come close, and even then it was way off in the foggy distance. And it's just a bridge (albeit one of the most recognized one on earth).
Still, there's something about it. It's epic. It's gorgeous. And its surrounded by turbulence.
One hour and thirty-nine minutes, ten miles, and 2529 feet of ascent (and — equally painfully for my 36-year-old knees — descent) later, I stepped back into the Ritz-Carlton with twenty minutes to shower, change, and get to the conference.
Worth ten hours of travel and two rounds of Advil? Heck yes.
Tune in next week for Google Map Long Run Fiasco #2: The San Diego Edition.