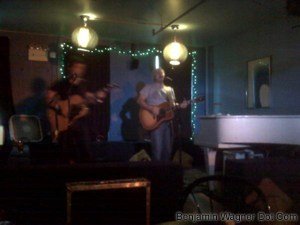 "Are you chewing gum?" Jason asked.
"I might be," Mike responded.
And so it was that The Nadas began another New York City performance.
Were Des Moines' favorite sons on their home turf, the room would be spilling forth with fans.
Last night, though, the founding duo, Mike Butterworth and Jason Walsmith, was performing an intimate acoustic set at New York City's venerable Living Room on the final night of a quick swing through the East Coast that included Philadelphia's World Cafe and Washington, DC's Kennedy Center.
The set began with a plaintive version of "The Deal," a great song that — on this night, 1500 miles from home in front of an audience of sixteen (including the sound guy, waitress, next performer and her two friends) — was difficult to divorce from the subtext of its lyric ("I just wanna' do one thing right / To know how that feels").
"Blue Lights" also sounded lonesome, sadder even, without the whiskey-fueled band.
"This is the total opposite of last night," Jason explained. "Last night we played for 500 people who weren't paying any attention at all."
"Tonight, though, there must be, what, 150 of you?" Mike said smiling. "And your listening like you're in church."
"Dancing Lucinda," a young blond in the front row chimed in as if on cue.
"Ok," Mike said. "Can we do…? Heck, ok we'll do that now."
As Mike and Jason played a beautiful, melancholy version of the song, I stole a glance of the young requester. Her eyes were wide and bright like only an Iowan's can be. Her memories of the band, her friends and everything she associates with the song — summertime, first love, skinny dipping — flashed a cross her face. And when they finished, she clapped louder than anyone, smiling ear-to-ear.
"So what did you want to do?" Jason asked Mike.
"Eh… Whatever."
"Anything else you wanna hear? 'Cuz we've already abandoned our set list."
"Walk Away!" someone shouted.
"Oh boy. Been a while since we did that one."
But they did, grinning through the missed chords. And it was great.
Likewise "Templeton Rye" and "Lullabye," requests both.
"Thanks," Jason said. "We have time for a couple more requests –"
"And judging by your requests, you haven't bought a new Nadas record in years."
They played "Alaska," then closed with "Goodnight Girl."
And then the shots showed up. Which is the moment, I imagine, that this room full of transplanted Iowans really started feeling homesick.