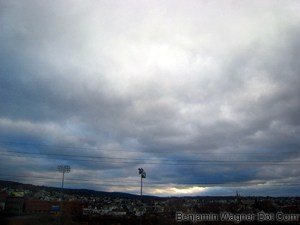 Greetings from The Electric City.
I'm writing you tonight from Room 202 of the Lackawanna Station Hotel where, through the thin walls of my room, piped in Muzak like drones away like The Lawrence Welk Show.
The entire town has that feel, really: as if time forgot it sometime around 1957.
Truth is, it was more like 1946.
Scranton — nestled in the Lackawanna River Valley just 120 north of Philadelphia and west of New York — was born of the steel age. It's prosperity was kept aloft — like the nearby cities of Wilkes-Barre, Pittston, and Carbondale — by anthracite coal mining. The post-WWII rise of oil and natural gas, though, ended the city's boom. Until the arrival of fictional of Dunder Mifflin, the town was pretty much off the map.
Downstate in Philly, where I grew up, this region of northern and western Pennsylvania was best characterized by Michael Cimino's "The Deer Hunter" or Billy Joel's, "Allentown." Like Syracuse, New York; Toledo, Ohio; Gary, Indiana; or any of another formerly abandoned hubs of industry, Scranton feel empty, wind-blown, and run-down. Best as I can tell from my brief time on the ground here, it's the kind of town where Main Street is lined by red-brick and granite historic storefronts where hobby shops, billiards halls, and music shops once thrived and the wrecking ball now looms. It's the kind of town where taverns outnumber cathedrals and half-way houses and counseling centers outnumber both.
Scranton is a shell of its former self.
Which makes it an appropriate venue, then, for my purposes here tomorrow.
At roughly 5:15 Monday night, the cable channel for which I work will be shooting a conversation between Senator Barack Obama and eight young Iraq War veterans. On Tuesday morning, we'll decamp to Lancaster, Pennsylvania, where we'll do the same with Senator Hillary Clinton. (Senator John McCain opted out of our show in favor of his trip to Iraq.) Our efforts will air this Thursday night, March 20 — the fifth anniversary of the United States' invasion of the sovereign country of Iraq — at 6pm.
I met a few of these young veterans tonight. In fact, I met one, Herold Noel, at the Sundance Film Festival four years ago; Herold's return from Iraq was included in director Patricia Axelrod's "The Ground Truth." he later went on to star in a documentary solely about his story called, "When I Came Home," which went on to win an audience prize at The Tribeca Film Festival.
Herold and I had a few drinks tonight, getting better acquainted than we were able on the chilly rooftop interview in Park City. With a glass of Hennessy in one hand and a Heineken in another, Herold told me about driving an 18-wheel fuel truck in Iraq. Not surprisingly, he turned animated quickly.
"Dude, I was shot at. Pop! Pop! Pop! I got hit by an RPG. Boom! I closed my eyes and said, 'Well, this is it.' But I woke up in the back of a Humvee."
"So you couldn't get guys to slow down to refuel," he said. "They knew they were tethered to a bomb. And man, I'd tricked that truck out; I could pump 300 gallons in five minutes. But still…"
"When it's night there, it's dark. I mean," he said waving his hand in front of his face, "You can't see nothin'."
"One night, I was just guardin' my truck. A Bradley let off a round in the the flash of the muzzle I saw an insurgent right there, man, his machine gun just right there in my face. So I just fell back and popped him."
Herold's harrowing tour notwithstanding, he came home to the same jobless future he left behind.
"I was livin' in my car, man. No one would hire me! I mean, I drove a truck full of fuel up slippery mountain roads in Korea and I need to come back to America to take classes to drive on some God damned highway? Hell no."
Worse, though, was the lack of support for veterans.
"I've had people say to me, 'You're stupid for fighting that war.'"
Which says nothing of his frustration with the Veteran's Administration: overbooked, understaffed, insanely bureaucratic. There are currently about 400,000 pending disability claims in the VA, 83,000 of which pending six months or more.
There 1.6 million Herolds out there who fought (and keep fighting) in Iraq and Afghanistan. And at least one of 'em — Herold Noel — is wondering, for what? Afghanistan? Ok, defensible. But the Pentagon now admits — quietly, after reviewing some 600,000 documents seized in in Iraq — that Saddam Hussein never had a connection to terrorism.
So… here I am in Anytown, USA, spending a few days with a few of America's Finest. They served for something they thought was just. When they got home, they were treated like lepers. And now, they want answers.
So do I.
And so should you.
***
"Choose Or Lose Presents: Clinton & Obama Answer Young Veterans" premiers Thursday, March 20 at 6pm on MTV.