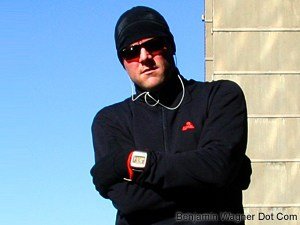 At its best, running is free and unfettered. It doesn't take much: a good jog on the beach really only calls for a pair of shorts. Often, though — especially these 27° February mornings — gearing up to run feels like suiting up for battle.
Here's a breakdown of my armour, from head to toe:
Turtle Fur Fleece Beanie, Black: The head loses a lot of heat. Especially my head. Even so, this doesn't stay on long, even on days like today. I like fleece, though; yunno: wicking and all.
Ray Ban RB4075 Sunglasses, Tortoise Frame, Brown Polarized Lens: They're not those aweful, angular, bright-plastic Oakleys you see other runners wear. These are hip — but not too — dark, wrap-arounds that I wear for everything. If its not raining, you'll find me in these.
Asics NYC Marathon Technical Shirt: This is just one of any number of similar, interchangeable shirts. All that matters is that it's long sleeve and a non-abrasive technical fabric.
Nike Pro DriFit Short Tights, Black: Some dudes wear tighty whiteys under their tights. I think it looks weird, and feels uncomfortable. Plus I don't own any. So I wear these. Better insulation, less abrassion, and less, um, impact.
Marmot Polartech Fleece Tights, Black: These are basic black tights with fleece lining. Super warm.
EMS Power Strecth Half-Zip Jacket, Black: The extra length kills eliminates some draft. Likewise the half-zip collar. Nothing fancy. It wicks, and kills a fair portion of the wind. It's heavy, but not too.
Manzella Fleece Gloves, Black: Nothing fancy. And they're really only necessary for the first fifteen minutes of any given run, unless it's in the teens. I usually ditch em and tuck em into my wasteband.
Amphipod Micro Pouch: This things genius. It's a small Neoprene pouch that snaps onto my wasteband at the small of my back. For the marathon, I jam keys, cash, a credit card, Metrocard, two Advil, a few pieces of gum and two PowerGels in this sucker — and then forget its even there. Most mornings, though, it's just keys.
Asics Gel Kayano XIII: I have strange, uneven, tough-to-fit arches. These are the only running shoes that have ever felt good. So I buy two pair a year. Same ones.
Thorlo Micro Mini Rolltop Socks: These are great for wicking, minimizing abrasion. And their thick so they actually diminish the impact of each footfall (which, after a few hours, is a real bonus).
Garmin Forerunner 305: I just got this baby for Christmas. It's a bit clunky, but totally badass. It's basically a wrist-mounted GPS device. It guages course, distance, pace, elevation, and heartrate (amongst other things) in realtime. Used to be I was forced to guestimate distances all the time. Now I know with rediculous precision. (Today, for example, I ran 5.21 miles in 45:16:66 minutes. Best of all, I can jack it into my laptop, note my exact course, as well as the relationship between, say, a particularly steepincline, my heart rate and pace. And, of course, I save all that stuff to my hard drive.
Apple iPod Shuffle: This thing is so small, it disappears as soon as I turn it on. Luckily, my music doesn't. Today's playlist: Baba O'Riley (The Who), Supernatural Superserious (REM), World Wide Suicide (Pearl Jam), Have You Seen Me Lately? (Counting Crows), Stuck Between Stations (The Hold Steady), Breathe In (Paloalto), Dare You to Move (Switchfoot), Radio Nowhere (Bruce Springsteen), Mofo (U2), Is It Any Wonder? (Keane).
It's not a fashion show out there. I'll be honest, though: I do feel like I'm more than protected from the elements, I'm some kind of stealthy superhero in training striding quickly through the city. I'm sure I look more like a thirtysomething dude in all black running eight and half minute miles, though. Which is fine too, I guess.