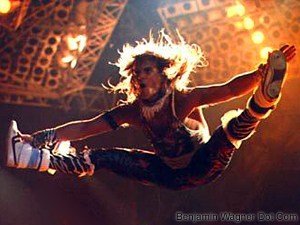 The very first rock show I ever played was Conestoga Senior High School's Jamfest.
The year was 1987. I was a sixteen-year-old junior in high school. With just a few months of rehearsals in drummer Wako Iwasaki's basement, my band, Neoteric Youth, was performing its very first show. We prepared a fistful of disparate covers — REM's "The Finest Worksong," Pink Floyd's "On The Turning Away," The Romantic's "What I Like About You" — and even borrowed my mom's credit card to rent a full-fledged PA system, wedge monitors and all. As we loaded in that damp October night, the quantity of amps, PA speakers and monitors alone earned us the center stage of the high school auditorium.
Soundcheck for these sorts of events, I would come to learn, was akin to the posturing and preening that occurs prior to a boxing match. The six or so bands set up in their respective corners of the auditorium, stealing glances at one another's gear before firing up their amps and running through their most ferocious, most flamboyant licks — all at once.
When the din subsided, each band ran a quick line check. The four of us — guitarist Jason Knopf, bassist John Leggette, Wako and me — were spread across a stage five times wider in a a room fifty times bigger than our basement rehearsal space. We ran through the set's most-recent addition, INXS' "Need You Tonight," prompting chuckles from the assembled clusters of black t-shirt clad metal heads.
Jason shifted nervously in his sneakers, then began playing Van Halen's "Runnin' With The Devil." I did my best to sing along with the classic screamer from the band's seminal 1978 debut, but it wasn't pretty. The chuckles turned to giggles. The giggles turned to full-out laughter.
Now, I think I'm a pretty good singer. A few thousand albums and downloads and twentyyears of shows might bear that out. But that was a stacked deck. There was no way I could touch that shit.
Today, though — some twenty years later — I am vindicated.
What follows is David Lee Roth's vocal from that song. The man is on fire. He is insane. No one — not me, not Bono, not Pavarotti — can touch him.
To those who derided me then, whose chuckles turned to giggles turned to full-on laughter, who let me remember that soundcheck with locker-side mockery for weeks to come, I say, "YEEEAAAH!!!"