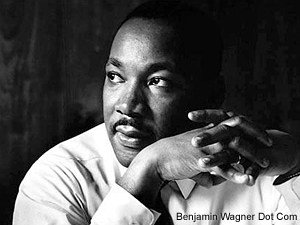 If I could spend an afternoon with one person, living or dead, I think it would be Martin Luther King, Jr.
You might have expected me to say Mister Rogers. And you might have been right. He was a remarkable man, quietly, patiently reminding us to be the best that we can be.
I don't know that Fred Rogers and Martin King's lives intersected, but I like to imagine the meeting. Maybe it was a rally in Pittsburgh. Maybe it was on "Meet The Press." Maybe (most likely) it never happened. Had such a meeting occurred, however, I'm sure they'd have had plenty to talk about. They had quite a bit in common.
Both were born in the late Twenties (Mr. Rogers on March 20, 1928, Mr. King on January 15, 1929). Both were ministers. Both contributed significantly to the betterment of the country, and in turn, the world. And both men — despite sufficient evidence to the contrary — chose to see the good in us all.
As much as I love (and deify) Mr. Rogers, though, it's difficult to imagine that he was forced to endure the same hardships as Mr. King. From the outset of his civil rights leadership, Martin was attacked by a fearful, bigoted, backwards America. Though I have seen the video tape of burning crosses, water canons, and tear gas, it is impossible to imagine the rage that he and his peers were forced to so courageously endure.
Despite the stone throwing, the bricks, the bombs, and the bullets, Dr. King preached non-violence. Dr.King preached peace. Dr. King preached in the transformative nature of love. "As I look into your eyes," he said, "And into the eyes of all of my brothers in Alabama and all over America and over the world, I say to you, 'I love you. I would rather die than hate you.'" Between 1957 and 1968, he traveled over six million miles and spoke over twenty-five hundred times in the name of human justice. We are all God's children, he said. What message could be more timeless? And what message could be more timely? And who could communicate that message more eloquently than Dr. King?
I have a dream that one day every valley shall be exalted, and every hill and mountain shall be made low; the rough places will be made plain, and the crooked pieces will be made straight: and the glory of the Lord shall be revealed, and all flesh shall see it together.

This is our hope… With this faith we will be able to hew out of the mountain of despair a stone of hope. With this faith we will be able to transform the jangling discord of our nation into a beautiful symphony of brotherhood. With this faith we will be able to work together, to pray together, to struggle together, to go to jail together, to stand up for freedom together, knowing that we will be free one day, this will be the day when all of God's children will be able to sing with new meaning."
And yet, even on the eve of his assassination, Dr. King held his convictions.
The world is all messed up. The nation is sick. Trouble is in the land. Confusion all around. That's a strange statement. But I know, somehow, that only when it is dark enough, can you see the stars. And I see God working in this period of the twentieth century in a away that men, in some strange way, are responding — something is happening in our world. The masses of people are rising up. And wherever they are assembled today, whether they are in Johannesburg, South Africa; Nairobi, Kenya; Accra, Ghana; New York City; Atlanta, Georgia; Jackson, Mississippi; or Memphis, Tennessee — the cry is always the same — "We want to be free."

Men, for years now, have been talking about war and peace. But now, no longer can they just talk about it. It is no longer a choice between violence and nonviolence in this world; it's nonviolence or nonexistence.
The next evening, The Reverend Dr. Martin Luther King, Jr. was dead.
Carl Wendell Himes, Jr. wrote, "Now that he is safely dead, let us praise him, build monuments to his glory, sing hosannas to his name. Dead men make such convenient heroes. They cannot rise to challenge the images we would fashion from their lives. And besides, it is easier to build monuments than to make a better world."
I don't know how to make a better world. I don't know what I can do. Maybe I need to build a house, or donate money. Maybe I need to run for office, or volunteer. Or maybe I simply need to relentless seek to recognize the good in all of us. Maybe I need to quietly, patiently be the best that I can be. Or maybe I need to repeat to the words of the man who walked the walk, and lived the life that his words so eloquently dictated, until they don't bear repeating any more.

If you want to be important, wonderful. If you want to be recognized, wonderful. If you want to be great, wonderful! But recognize that the he who is greatest among you shall be a servant. That's a new definition of greatness. And this morning the thing I like about it, by giving that definition of greatness it means that everybody can be great. Because everybody can serve. You don't have to have a college degree to serve. You don't have to make your subject and your verb agree to serve. You don't have to know about Plato and Aristotle to serve. You don't have to know Einstein's Theory of Relativity to serve. You don't have to know the second theory of thermodynamics in physics to serve! You only need a heart full full of grace, a soul generated by love, and you can be that servant.
If I could spend an afternoon with one person, living or dead, it would be Martin Luther King, Jr. I wouldn't have much to say. I wouldn't have much to offer. I suppose I would sing for him, something hopeful: "Amazing Grace," or "Here Comes The Sun." Maybe we'd play a board game, or a few hands of cards. Something to take his mind off his worries. Something to shake the weight of the world from his shoulders. In the end, though, I'd ask him to tell me a story, any story, just to hear him speak. And I'd rest in the strength of that great baritone, and rise up within, the best that I can be.