June 28th, 2009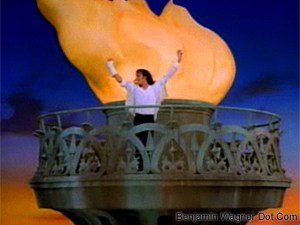 From the moment the Michael Jackson story broke Thursday night, just one song has been on my mind.
I appreciate that most would cite "Beat It," "Billie Jean," or "Thriller" as Michael's finest pop song, and they may well be right; they're great songs with great hooks. But it's Jackson's 1991 "Dangerous" single, "Black or White," that's been lodged in my head all weekend.
And for good reason. Yes, Michael Jackson was a musical (and marketing) genius. But he also knew when to tap top talent. For "Black or White," he called on co-writer and producer Bill Bottrell and guitarist Slash.
Bottrell was an early conspirator of singer/songwriter David Baerwald. Baerwald released one of my early favorites, "Boomtown," in 1986. The two went on to form The Tuesday Night Music Club with Sheryl Crow whose second album Bottrell later produced. Slash, of course, provided the tune's simple but infectious guitar hook.
"Black or White" was released to radio just twenty-four hours prior to the release of "Dangerous." It was immediately added to 96 percent U.S. top forty radio station playlists. The "Black or White" music video (directed, like "Thriller" before it, by John Landis) premiered on MTV, VH1, BET, and Fox simultaneously.
Now, I don't know much about the mathematics of music, so I can't explain what Michael was doing, but I can tell you that — not surprisingly — the progression is pretty simple: it's mostly a D chord. The melody, though, is something else, full of half-steps and heartbreak. What's more, the lyrics are filled with great, rhythmic turns of phrase like "Now I believe in miracles, and a miracle has happened tonight" and "Don't tell me you agree with me, when I saw you kicking dirt in my eye." I sang, hummed, whistled and replayed the song over and over in my head all weekend until there was just one thing left to do: record it myself.
While I may do the song no justice whatsoever, something interesting happened there in the tiny, silent oven that is my studio: "Black or White" became some sort of folk song. And so, with my apologies and the caveat that, if you really hate my cover, my pal Ron encouraged me to go ahead and post it, well…
Audio clip: Adobe Flash Player (version 9 or above) is required to play this audio clip. Download the latest version here. You also need to have JavaScript enabled in your browser.
One Response to "Black Or White – MP3"
Elizabeth ( Blisland, UK ) Says:
June 29th, 2009 at 1:29 am

"Black or White" is the one song that has been stuck in my head too over the last few days….it's nice to hear your version. Well done!
Leave a Response