June 28th, 2009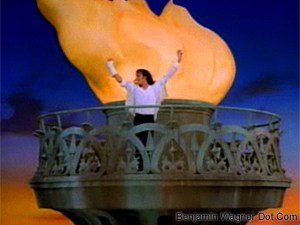 From the moment the Michael Jackson story broke Thursday night, just one song has been on my mind.
I appreciate that most would cite "Beat It," "Billie Jean," or "Thriller" as Michael's finest pop song, and they may well be right; they're great songs with great hooks. But it's Jackson's 1991 "Dangerous" single, "Black or White," that's been lodged in my head all weekend.
And for good reason. Yes, Michael Jackson was a musical (and marketing) genius. But he also knew when to tap top talent. For "Black or White," he called on co-writer and producer Bill Bottrell and guitarist Slash.
Bottrell was an early conspirator of singer/songwriter David Baerwald. Baerwald released one of my early favorites, "Boomtown," in 1986. The two went on to form The Tuesday Night Music Club with Sheryl Crow whose second album Bottrell later produced. Slash, of course, provided the tune's simple but infectious guitar hook.
"Black or White" was released to radio just twenty-four hours prior to the release of "Dangerous." It was immediately added to 96 percent U.S. top forty radio station playlists. The "Black or White" music video (directed, like "Thriller" before it, by John Landis) premiered on MTV, VH1, BET, and Fox simultaneously.
Now, I don't know much about the mathematics of music, so I can't explain what Michael was doing, but I can tell you that — not surprisingly — the progression is pretty simple: it's mostly a D chord. The melody, though, is something else, full of half-steps and heartbreak. What's more, the lyrics are filled with great, rhythmic turns of phrase like "Now I believe in miracles, and a miracle has happened tonight" and "Don't tell me you agree with me, when I saw you kicking dirt in my eye." I sang, hummed, whistled and replayed the song over and over in my head all weekend until there was just one thing left to do: record it myself.
While I may do the song no justice whatsoever, something interesting happened there in the tiny, silent oven that is my studio: "Black or White" became some sort of folk song. And so, with my apologies and the caveat that, if you really hate my cover, my pal Ron encouraged me to go ahead and post it, well…
Audio clip: Adobe Flash Player (version 9 or above) is required to play this audio clip. Download the latest version here. You also need to have JavaScript enabled in your browser.
June 28th, 2009
Sadly, breaking news doesn't surprises me much anymore. It is immediately what it is.
I was in a seventeenth floor corner office overlooking Times Square on a conference call with a blogger from VH1′s Best Week Ever (of all media entities) when I heard the news.
"Michael Jackson had a heart attack."
Now, I was never a huge fan, but I remember the first time I heard "Thriller." I was sitting on my cousin Jimmy's bed in Cedar Rapids, Iowa, wearing big, puffy headphones when I first heard Vincent Price's sinister cackle. A few months later, Jimmy, his sister Susan, Chris and I crowded around Susan's grainy, 19″ color television to watch John Landis' epic, 14-minute, $500,000 music video on MTV.
I grew up on the network, of course, and MJ was rarely off its air for long. From "Thriller" to "We Are The World" to "Black or White" to the ill-fated merger of Graceland and Neverland, I followed it all from the periphery. In recent years, my job has required I follow it from a few steps closer: from The People vs. Michael Jackson to his baby-dangling and Middle Eastern self-exile, we covered it all.
The madness and sadness of his later years, of course, obscure the impact of his music and reach of his relationships. Jackson sold more than 750 million records worldwide. He notched eight platinum or multiplatinum albums and 13 #1 singles, and had 47 tracks crack the Billboard Hot 100. He won 13 Grammy Awards, was inducted twice into the Rock and Roll Hall of Fame (as a member of the Jackson 5 and as a solo artist) and received the American Music Awards' Artist of the Century Award. His 1982 album, "Thriller," is the biggest-selling original album of all time (neck-and-neck with the Eagles' "Greatest Hits" for years).
I always appreciated that he tapped rock guitarists to craft his monster hooks: Billie Idol's Stevie Stevens, Eddie Van Halen, Slash. In fact, Jackson always called on his friends. His "Liberian Girl" video alone features cameos from Iman, Sherman Hemsley, Paula Abdul, Carl Weathers, Whoopi Goldberg, Quincy Jones, Amy Irving, Lou Diamond Phillip, John Travola, Olivia Newton John, Corey Feldman, Stephen Spielberg, Deborah Gibson, Jasmine Richards, Rosanne Arquette, LA Law, Rick Shroeder, Weird Al Yankovich, Lou Ferigno, Don King, Soleil Moon Frye, David Copperfield, Billy Dee Williams, Richard Dryfus, Dan Akroyd, Steve Guttenberg, Soleil Moon Frye, and Suzanne Summers.
Twenty-six years later from that first listen, on the twenty-ninth floor of MTV HQ, my colleagues were scrambling: our breaking news bar was deployed online, an alert had been emailed, an article published, a ticker was beginning to air, and PAs were racing up and down the hallways looking for tape.
A few of us huddled around a speaker phone with our boss on the other end, trying to confirm whether Michael had died or not while planning our break into regular programming. For a moment, only TMZ was confirming his death. I heard my boss say, "It's on AP and Reuters," and pulled the trigger on our ticker. When I checked AP and Reuters, though, they were citing TMZ (who, I would later come to find, announced his death six minutes prior to the coroner). For a moment there, I paced the halls apoplectic that, in fact, Jackson hadn't passed but that I'd announced Jackson's death to MTV viewers. But then the confirmation: CNN, LA Times, NY Times, AP, Reuters…
The channel switched almost immediately to music videos. Before we knew it — after a flurry of conference calls, mass emails and ad hock meetings — we were in the control room breaking into programming. At nine o'clock we went on air with "A Tribute To Michael Jackson," comprised of great MTV moments, celebrity reactions and phoners, and a live feed from Harlem where revelers were celebrating his life below the Apollo marquee.
On set and behind the scenes, it was a family reunion. Kurt and John joined Sway, while producers from Michael, Madonna and Prince's heyday poured into the back row. Everyone was pitching in. More than once, the company's president forwarded me artist's statements from his Blackberry, which I typed into a script, then delivered to prompter and Chyron. Seconds later, Sway read the statement on air. It was like "Broadcast News," but without the flop sweat.
With just a few hours to sleep Friday morning, we continued breaking into live programming until Friday night, when we aired another live hour, "A Celebration of Michael Jackson on MTV." I finally stumbled into my apartment Friday night around midnight.
Some thirty-six hours later on CBS Sunday Morning, VH1 EVP Bill Flanagan presented the most even-keeled, articulate and informed piece I've seen or read yet:
Michael Jackson presided over the third and final big band of the rock 'n roll era.

The first explosion was Elvis. That was about sexual liberation, and racial integration, and lasted about ten years.

The second explosion was The Beatles and everything they issued in. Suddenly pop music was all about long hair and experimental sounds, progressive politics and outlaw rhetoric. Rock was about a counterculture. That blast lasted about twenty years, right through Springsteen, Prince, and U2.

The third explosion was "Thriller," Michael Jackson's 1982 album, and the best selling album of all time, the album that invented the pop world we're still living in twenty-five years later.

Thriller re-merged pop music with mainstream entertainment. After two decades, pop became again what it had been before the Sixties: part of show business. With Thriller, pop wasn't just about how you sounded, but how you looked, how you dressed, and danced.

Michael didn'tidolize Dylan and Hendrix, he idolized Elizabeth Taylor and Walt Disney. The model has ruled mainstream entertainment for twenty-six years and show no sign of ending. He made the world safe for MTV and Madonna, "Flashdance" and "Footloose," Britney Spears and Justin Timberlake.

A student of PT Barnum, Jackson courted crazy publicity rumors. But at some point that hunger for tabloid headlines turned on him. He fed a beast, and the beast bit him. At some point, Michael forgot about being a musician, and got lost in being a star.

But one crucial fact often gets overlooked in all the statistics, hype, and hoopla: Michael Jackson was amazingly talented.
I'm heading back into the office momentarily to keep up with a story that is becoming sadder by the minute. As police investigators continue to question Jackson's personal doctor, Dr. Conrad Murray, and stitch the coroner's report together with a history of prescription drug use, it seems clearer and clearer to me that Michael Jackson really never had a chance.
From a childhood wracked by bullying and abuse from his father, through an adolescence broadcast on network television specials, to an adulthood scrutinized by tabloids, cable news networks and internet sites, Michael Jackson had nowhere to hide from his fans, his tormentors, his pain, or himself.
In the end, then, perhaps there was no other possible cause of death than a broken heart.